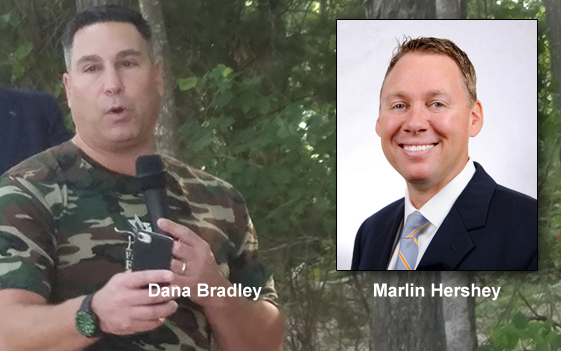 By Dave Yochum. A lawsuit filed in Denver, Colo., by the receiver overseeing the assets of an alleged Ponzi artist has also named a Cornelius financial advisor and his company as defendants.
The Colorado lawsuit, filed in Denver District Court, for the first time names Marlin Hershey and Performance Holdings as defendants and alleged co-conspirators.
Performance is a Florida corporation headquartered in Kenton Place owned by Hershey and Dana Bradley, both of whom are Cornelius residents.
Attorneys for Hershey, Bradley and Performance strenuously denied the charges. (SEE STATEMENT BELOW)
Investors include local churchgoers, Lake Norman residents and investors from Pennsylvania and Massachusetts who have spoken to Cornelius Today.
Performance Holdings, Hershey and Bradley have also been named in a separate Securities and Exchange Commission lawsuit filed last October. The SEC alleged Hershey and Bradley fraudulently raised nearly $6 million from investors, some of whom were family and friends.
That complaint, filed in U.S. District Court in Charlotte, alleges Hershey and Bradley told investors they would use investor funds to make loans to real estate developers who would then use the money to acquire and rehabilitate homes.
The case in Denver, Colo. indicates that Hershey, Performance and a failed real estate developer named Gary Dragul have had a long working relationship.
The SEC calls Hershey a "promoter"—the equivalent of a salesperson in almost any business.
Nevertheless, complaints and lawsuits, no matter who files them, are merely allegations and must be proven in court.
The Denver, Colo., lawsuit says Dragul was able to carry on a "fraudulent scheme for more than 20 years as a direct result of the participation, assistance, and efforts of the other defendants in this action."
The court-appointed receiver, whose name is Harvey Sender, alleges that "each defendant played a distinct and important role in carrying out Dragul's fraudulent scheme."
A court appoints a receiver to protect property controlled by a person sued in a court case. The SEC typically recommends the appointment of a receiver in cases in which the SEC fears a company or an individual may dissipate property and assets.
The suit says "Dragul, in concert with the other defendants solicited more than $52 million from hundreds of investors purportedly to purchase ownership interests in numerous single purpose entities."
The methodology to recruit investors, according to the suit filed in Colorado, in part relied on financial projections that would indicate an inflated purchase price of a commercial property.
One property, the Market at Southpark in Colorado was purchased for $22 million. The receiver's lawsuit says investors were told that the purchase price was $24.75 million. The property was later sold for $30 million.
"From 2001 to 2014 the Hershey Defendants received approximately $2,891,155.54 in purported commissions for funds solicited by Hershey from investors," the Sender lawsuit alleges.
---
Hershey attorneys respond:
"Mr. Hershey and Performance Holdings have been served with a civil lawsuit from a Receiver in Colorado.  Mr. Hershey and Performance have been instructed not to discuss the details of this lawsuit. 
As with all lawsuits, the plaintiff makes allegations which are not facts and not proven in a court of law.  Mr. Hershey and Performance Holdings adamantly deny they were engaged in any illegal activities, and they will vigorously defend themselves in this lawsuit.  Mr. Hershey and Performance Holdings were not a part of any alleged scheme and to the extent Gary Dragul was involved in illegal activity it was concealed by Dragul and unknown to Mr. Hershey and Performance Holdings, Inc. 
They ask that the public reserve all judgment until all the facts have been determined and…the matter is fully resolved in a Court of law."
—Richard F. Kronk, partner
Baucom, Claytor, Benton, Morgan & Wood P.A.

---
The Hershey defendants, according to the lawsuit, were not licensed or registered brokers with the State of Colorado or the SEC.
Local investors said they have appointments to be interviewed by investigators from the N.C. Secretary of State Security Fraud Division.
Sender, in his suit, alleged that "by distributing the Solicitation Materials to induce investors and prospective investors, Hershey deliberately withheld or failed to disclose material information to prospective investors concerning the Market at Southpark including the actual purchase price, estimated closing costs, material financial information, and that the Hershey Defendants stood to profit from any investment they would make in the SPE."
SPEs are single purpose entities that are typically used to isolate liability between companies and among other assets.
Sender said the Hershey Defendants received $3,175,655.54 in total commissions.
Sender, in making his claims against the Hershey Defendants, said their conduct in relation to the Dragul investments "is substantially similar to the conduct that forms the basis of the claims asserted by the SEC: fraudulently solicitating investors and pocketing millions in undisclosed and illegal commissions.
Dragul is expected to be arraigned in a Colorado court March 12.
"This scheme resulted in investors not having their funds held or invested in the particular projects and properties where Dragul represented they would be held or invested," the Sender lawsuit alleges.
It goes on to say that funds were co-mingled back and forth to "falsely represent to investors the financial condition of the various" investments. It was described in the lawsuit as a "churning process."
The Sender lawsuit in Colorado says Dragul sold more than $52 million worth of interests in 14 SPEs to approximately 175 investors.
The suit says "The Hershey Defendants furthered Dragul's fraudulent scheme by identifying and soliciting investors for the Sham Business."
"For his successful solicitation efforts, Hershey received a percentage of the total investment made by each investor as an undisclosed and illegal finder's fee or commission," the Sender suit says.
More details on the Receiver's website
https://dragulreceivership.com/wp-content/uploads/2019/11/20191114-Rcvrs-Third-Report.pdf
"The Receiver has entered into tolling agreements through March 31, 2020, with additional parties who received the following transfers…
Marlin Hershey = $497,996.76
Performance Holdings = $2,841,435
—A 'tolling agreement" is an agreement to waive a right to claim that litigation should be dismissed due to the expiration of a statute of limitations.