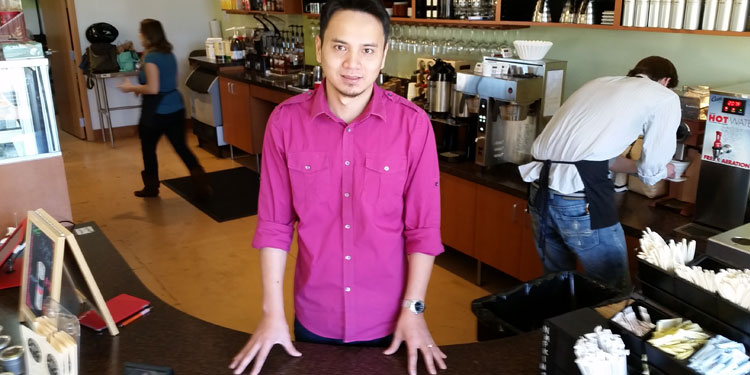 By Dave Vieser. If you like to start your day with a cup of coffee—or four or five—locally owned coffee shops abound in Cornelius.
Waterbean is the entrepreneurs' meeting hang-out, Charlie's Coffeehouse has business networking meetings, Davidson-based Summit Coffee has opened a roasting operation here and What the Cup is expected to open in the old Gabi's Coffee Shoppe space in downtown Cornelius in 2016.
Competing with the big guys might keep you awake at night because chains like Starbuck's, Dunkin Donuts and McDonald's have national buying power. On their website, Dunkin Donuts says if their fresh brewed coffee is not used within 18 minutes, it will be discarded. Concord-based S&D Coffee supplies coffee and tea to McDonalds, Dunkin Donuts, Krispie Kreme, and to the U.S. military.
But small operators can get closer to local tastes and excel around service and atmosphere.
"We strive to be unique and different from everyone else," said Tony Vo, owner and operator of Waterbean Coffee on Jetton Road. He says Waterbean was the first specialty coffee shop in the Lake Norman area to offer cold-brewed coffee, pour-over coffee, and cold-brewed tea. "Even though both of our locations are next to big franchises, it hasn't affected our business because we focus on each and every customer who walks through our doors. We treat all of our customers like family because we understand that we wouldn't exist without them," he says.
Charlies Coffeehouse on Bailey Road, like most coffee shops, offers goodies, ranging from bagels and ice cream to smoothies and protein shakes. Vo opened a second in Huntersville on Sam Furr Road just east of Highway 21.
Summit Coffee of Davidson has recently expanded into Cornelius with a new roasting facility, complete with two black-and-gold roasting machines. Staff has quadrupled since 2013 to 36.
Owner Brian Helfrich sources coffee from small farms around the world and roasts it in small batches. His operation on Star Creek Drive in Cornelius has a state-of-the-art training center and something called a cupping lab. Cupping is when expert taste testers—cuppers—evaluate coffee aroma and flavor profiles. Coffee can be as serious as wine.
Helfrich says he spent "in the low six figures" to buy the necessary roasting equipment, and build out the 2,000-square-foot facility.
Profits aren't necessarily as strong as they might seem, according to Ric Rhinehart, executive director of the Specialty Coffee Association of America. Between the price of a pound of green coffee and a cup o' joe at a local shop there is a wide variety of costs, ranging from roasting and transportation to rent in costly retail locations, labor and utilities, not to mention plenty of milk, sugar and artificial sweeteners.
What's next? There are about 24,000 coffee shops around the country right now. The industry is expected to double within the decade.
And, naturally, coffee shops aren't two floors up, and they're not in out-of-the-way spots. Prime retail real estate can run upwards of $25 a square foot.
Says Vo: "Each cup of coffee costs differently because of the price variations. I don't know how much each cup costs because I never do the calculation. I just add up all the expenses at the end of each month."
The result: A nice cup o' joe is $2.33.
---
Drink Local!
Charlie's Coffeehouse – 9606 Bailey Rd., 704-891-5469
Madalyn's Coffee & Tea – 17111 Kenton Dr. #102b, 704-255-6215
Summit Coffee Roastery –  18635 Star Creek Dr.
Waterbean– 19420 Jetton Rd. #105, 828-305-9999