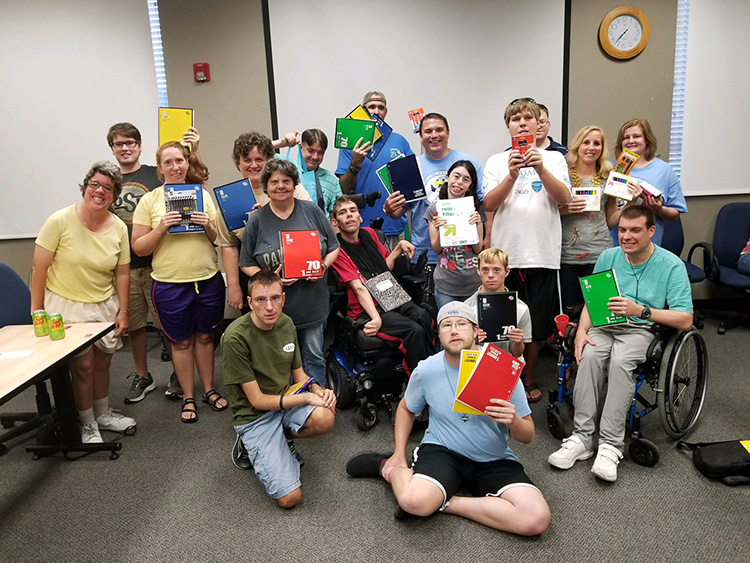 By Dave Vieser. "There's so much warmth in the room when they meet, you don't need to turn on the heat!" So said Neil Serdinsky of Cornelius, whose 20-year-old daughter Allison was recently named newcomer of the year by the Lake Norman Aktion Club.
The Aktion Club is one of a number of groups and organizations for adults with special needs.
At Mt. Zion United Methodist Church, The "HIS" ministries offer alternative worship services every third Sunday morning at 11 a.m. as well as other opportunities to gather, including a fun JEDI Night from 4:30 p.m. to 6:15 p.m. every fourth Sunday in the Family Life Center gym. (Info: www.mtzionumc.net click on ministries)
IGNITE in Davidson is a unique peer-to-peer community center for young adults with high-functioning autism or Asperger's Syndrome. It offers activities, skills training and workshops. There is a parent education meeting on the first Tuesday of every month. (Info: www.ignite-davidson.org)
The Kiwanis Club of Lake Norman has sponsored the club since 2006, and Bill Russell, president of the Lake Norman Chamber, has served as club advisor since its inception. "It's a real joy to see these young people get together each month, and also between meetings, to plan community projects, or participate in various social outings," he said.
Aktion Club members organize winter coat and school supply drives, as well as other group activities aimed at helping others. "It's all about making their community a little bit better," Russell said.
And recognizing the joys of diversity as well as offering the same activities to everyone. Contemporary communities everywhere provide support and services to accommodate people's differences.
Serdinsky and his wife Kristy, who own Massage Heights in Jetton Village, say their daughter Allison adores the Aktion Club. "It provides a way to have her involved with the community," Neil says. The club gives her a chance to interact at a different level than she ever has before. Allison has Williams Syndrome, a genetic disorder that usually results in learning problems and anxiety—and outgoing personalities.
In addition to community service projects, club members act as ambassadors to promote inclusion and improve the way society views those with disabilities.
Allison's dad related what happened in June when she received the newcomer award. It was a special moment: "Steve McIllwain, who is the Aktion Club Advisor from Mecklenburg County, was describing the award. My daughter, knowing that the recipient would need to go onstage to accept the award leaned over and said 'I hope this isn't me Dad.' What makes this so heartwarming is that everyone in the room knew that it was her through Steve's preamble and yet, when they called her name, Allison was completely and genuinely surprised. Once onstage, she was a total showboat! It was great fun and a great group of people."
For more information, contact Steve McIllwain at (704) 332-4535, extension 106, or visit www.arcmeck.org/2015/index.php/events/5-lake-norman-aktion-club-meeting.