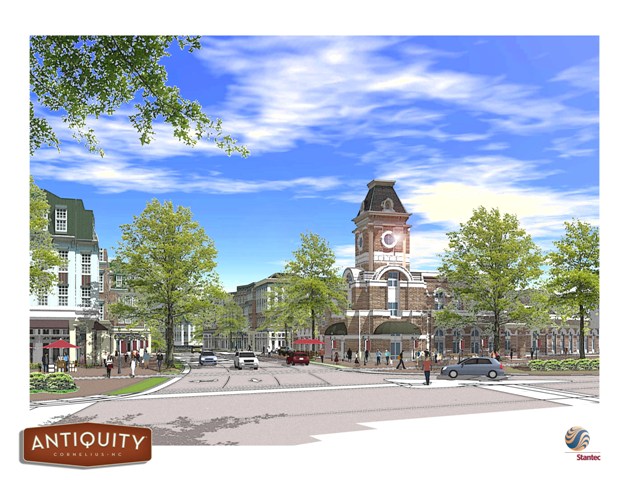 ​Dec. 21. ​By Dave Vieser​. ​While debate continues over the rezoning request for Antiquity Woods on the Cornelius/Davidson border, ​readers have also been asking whatever happened to the ​Antiquity ​amphitheater​ ​and the clock tower.
As of now, it​'s​ not looking too good.​ They were apparently part of the marketing material, which doesn't count in the world of development. Then, too, the recession battered everyone and anyone on the periphery of the real estate business, and many developments came to a total standstill.
​Cornelius Planning Director Wayne Herron explains:​ "Many years ago, when the Town first started talking about an Arts Center in the Town Center, there were marketing materials prepared by private marketing firms that showed the Arts Center and an amphitheater at the front end of Antiquity​.
"The problem is that home buyers and residents often take th​o​se marketing brochures to be legitimate approvals,​Herron says, "which they are not."
Herron has​ also​ had a number of residents inquire if the Town is going to require Antiquity to build an amphitheater, since it was shown or depicted in marketing materials. The answer is no​.
"The Town cannot require an amphitheater​," Herron says. "The developer certainly has the choice to provide one, but also has the option to provide additional retail, office or residential buildings, as allowed by their original approval."
Same thing with the clock tower pictured on some brochures.
What did blossom​ is the retail section in the front of Antiquity near Main Street. A swank Harris Teeter has been coupled with numerous shops, Crafty Burg'r and financial institutions, as well as Novant Medical Offices.
Does the lack of an amphitheatre or clock tower detract from the quality of life residents enjoy at Antiquity?​​
Resident Giselle Massi​ said ​Antiquity continues to​ "evolve and prosper as a unique and beautiful development from the strength of an active social community and an attentive HOA. The increase in shopping and service conveniences nearby has required the Town to provide additional traffic and safety support. Their efforts have had a positive impact."