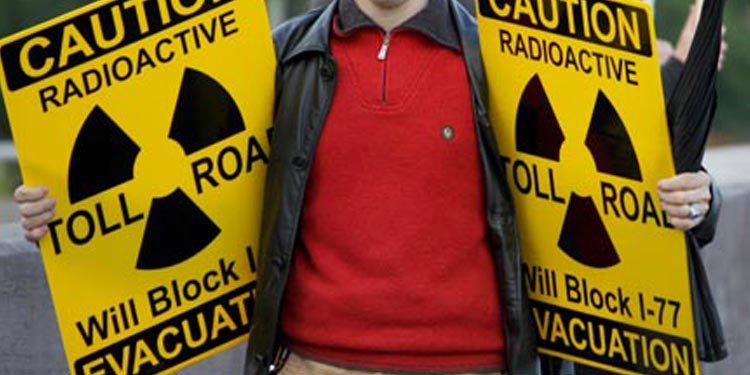 May 25. Beginning at 1:00 pm., citizens opposed to the I-77 toll lane project will convene at the lobby of the North Carolina General Assembly to hand out fliers to legislators urging them to defund the project and to support the cancelling of the $655 million, 50-year contract with the Spanish company, Cintra. From 2 to 3:30 pm citizens will protest outside of the General Assembly and then protest at 4 pm outside the Governor's Mansion.
"In the past two weeks, four towns and two counties passed resolutions asking for Governor McCrory to put the brakes on the I-77 tolls," said Vallee Bubak, an opponent of the project and former NCGOP delegate from Davidson, N.C. "Despite the requests to delay the project by elected officials representing approximately 1.5 million people and questions around the legality of the process and non-compete clauses, the Governor and the NCDOT have aggressively pushed this project forward."
The I-77 toll project will be North Carolina's first highway where the right-of-way and an HOV lane of an existing highway paid for by the public will be leased to a private company to design, build and operate toll lanes. The project with Spanish-based Cintra is for 50 years and non-compete clauses with severe penalties in the contract will prevent future widening of I-77 with regular lanes.
Citizens are also concerned by the hazards presented by a nearly four-year toll road construction project that will involve the rebuilding of currently safe bridges, a new flyover and tolling barriers, access lanes and tolling equipment. I-77 is an evacuation route for both the Catawba and the McGuire Nuclear Stations operated by Duke Energy. Since these two nuclear stations were licensed in the early 1980s, I-77 has not been widened north of Charlotte. Secondary roads also have not been improved to accommodate the explosive population growth around the10-mile radius of the McGuire Nuclear Station.