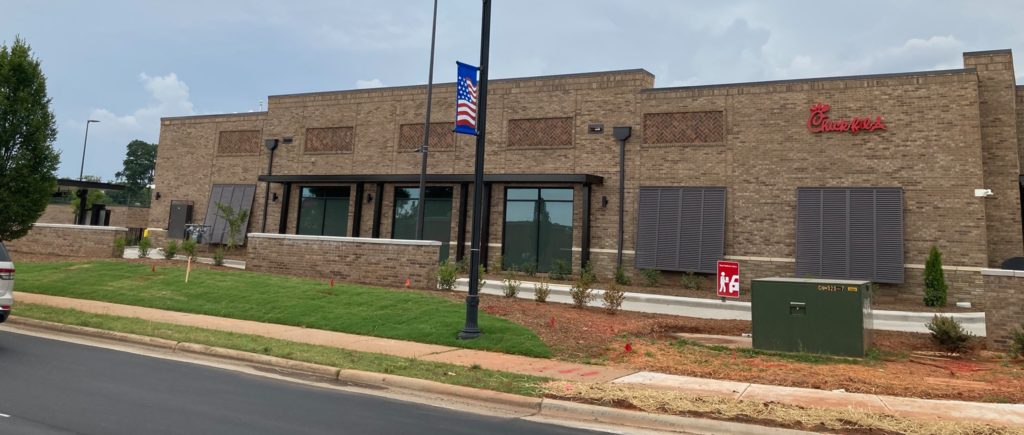 July 8. By Dave Vieser. The new Cornelius Chick-fil-A drive-thru on West Catawba Avenue is scheduled to open tomorrow, Thursday, July, 9 with normal business hours of 6 a.m to 10 p.m., Monday-Friday, and 6:30 a.m to 10 p.m. on Saturday.
Company officials said the rest of the store will not open due to the COVID-19 restrictions in place.
It will be the second local location for Joe Hatzopoulos, who also owns and operates the Chick-fil-A on Hwy. 21 in Huntersville.
Closing on Sunday is a Chick-fil-A tradition. Their founder, Truett Cathy, made the decision back in 1946 when he opened his first restaurant in Hapeville, Ga. Having worked seven days a week in restaurants open 24 hours, Truett saw the importance of closing on Sundays so that he and his employees could set aside one day to rest and worship if they choose.
The company now operates more than 2,300 restaurants in 47 states, with plans for a new location in Hawaii soon. The local store already has a Facebook page, cluck here to take a gander at it.
The store is the first of several retailers planned for the Catawba at Knox development, currently under construction. Others include Andy's Frozen Custard and an Aldi's supermarket.