Nov. 3. By Dave Vieser. The Chase Bank getting ready to open at the former site of Rite Aid Pharmacy on West Catawba is actually one of three banks opening branches in Cornelius, which is already rich in financial institutions.
Chase's two-story 3,000 square foot branch is part of the bank's plan to open up to 40 new branches across the state in the next three years, creating 250 jobs.
A mid November grand opening is planned.
More coming
Just a short distance away, site clearing and preparation has begun for a new Fifth Third Bank branch on the site of the old produce market near Magnolia Estates Drive. It is unclear whether this new branch will replace or supplement the existing branch over at Torrence Chapel Road. Bank officials did not respond to several inquiries.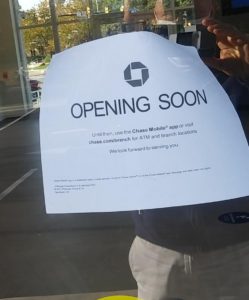 Meanwhile, Asheville-based HomeTrust Bank plans to build a two-story, 7,000-square-foot branch near the intersection of West Catawba and Old Jetton Road.
In a strange twist, the $3.5 billion (assets) bank won't need the approval of either the present day Planning Board or Town Board because the location received the official go-ahead from the town 13 years ago which lives on in perpetuity.
The property is between the Lakeside Professional Building and Dutchman's Furniture. No construction or opening schedule has been established yet for this branch.