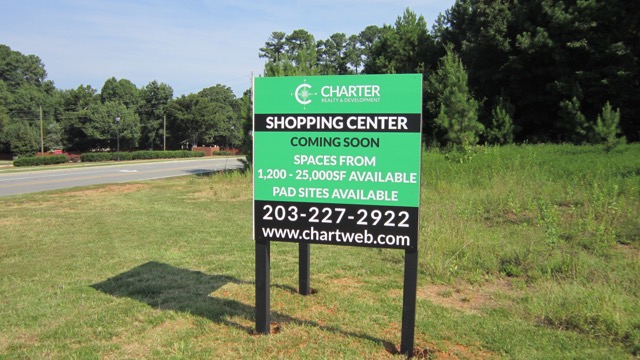 July 25. By Dave Vieser. Real estate developer Charter Realty & Development has begun marketing a retail project on 11 acres between West Catawba and Knox Road, suggesting the town at some point will enable the development to move forward. Signs have been erected during the past week stating "shopping center coming soon."
Charter Cornelius, a division of Connecticut-based Charter Realty, is planning five commercial buildings comprising a total of 48,225 square feet at the site. The proposal calls for three buildings fronting on West Catawba and two facing Knox Road.
Town Planning Director Wayne Herron said erecting a sign before zoning approval has happened before. "We allow signs like this to be posted before plan review, as long as the property is listed for sale. We have some similar to this in Town Center on NC 115 that have been up for 4 years or more," he said.
The Charter web site says a 4,995-square-foot unit has been taken as well as a 22,400-square-foot unit that backs up to Knox Road.
To receive the conditional zoning approval, Charter will still have to conduct a community meeting, plus there will need to be public hearings before the town Planning Board and the full Town Board. As of July 26, no dates for any of these meetings had been set.