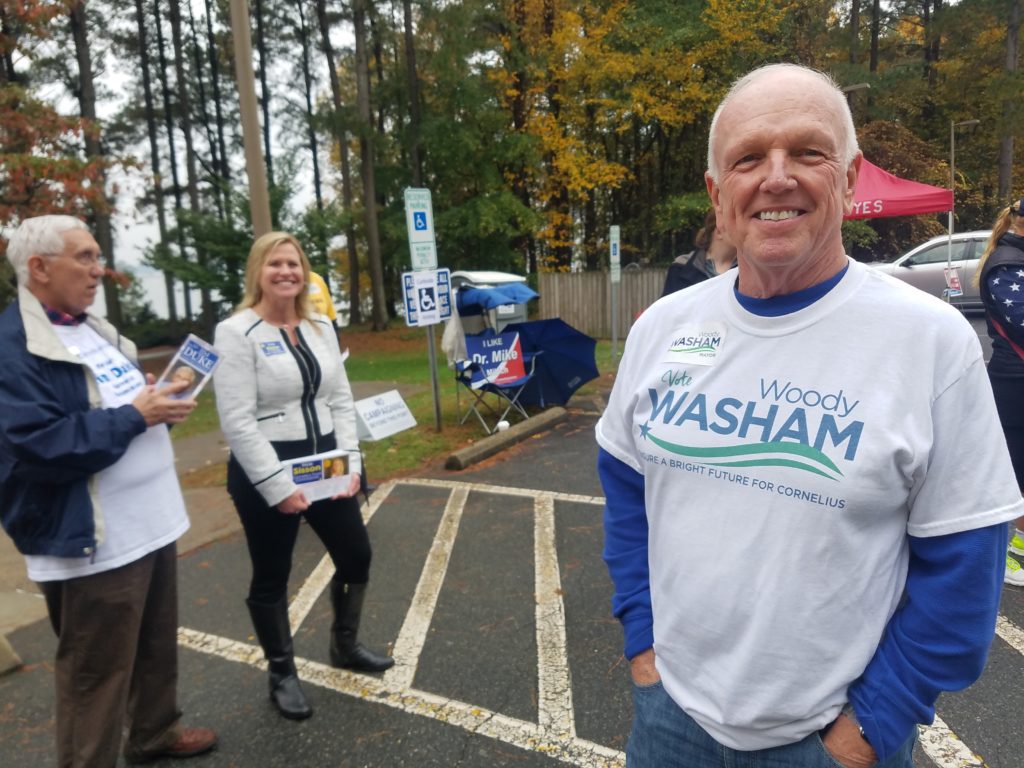 Dec. 4. ANALYSIS. By Dave Yochum and Dave Vieser. Woody Washam, who ran unopposed for mayor but ran a modest campaign nevertheless, will be sworn in Monday night by NC Rep. John Bradford. Commissioners Mike Miltich, Dave Gilro, and Thurman Ross, who were reelected, will be sworn in also, as well as new commissioners Kurt Naas and Denis Bilodeau. Chuck Travis, who chose not to run for a third term and Commissioner Jim Duke, who lost a tight race for five seats on an 11-member board, will be stepping down. All of the town's elected officials will serve a two-year term.
The race was so close there was a recount. Ross finished six votes ahead of two-term commissioner Jim Duke, 1,896 votes to 1,890. Washam say he hopes to keep Duke, a well-known details man, especially around finance and administration, involved in an appointive board. Duke, who was a popular president of The Peninsula Property Owners Association, said he will continue to publish his newsletter which reaches more than 3,000 people.
"I am a huge fan of our future Mayor and wish him the best of luck managing what is sometimes an unmanageable cast of characters called 'commissioners.'  From time to time, every mayor seems to be at odds with the board. This time, let's hope that this mayor has that certain leadership quality that will build a cooperative team of leaders working together for Cornelius.  I'll be letting you know if they let him [and you] down," Duke said.
Renegade mayor
Duke was referring to the past year and a half which saw the Town Board virtually at war with Travis over I-77 and the current toll plan. The Town Board voted unanimously to censure Travis after he traveled to Raleigh without their knowledge to express his support for the current toll plan. In what appears to be a parting shot, he is attempting to place Commissioner Miltich on a new I-77 Advisory Board, snubbing Naas.
While Miltich has earned his credentials as a toll fighter, the acknowledged expert on the 900-page, 50-year contract with Cintra, a contracting company with roots in Spain, is Naas. The cerebral business owner was probably the first and most articulate toll fighter, having organized WidenI77.org.
'Horse—-'
Naas' election to the board is a repudiation of Travis and all things pro-toll. A movement known as "complete and delete" would pay a fair value for Cintra's work and overturn the contract, which NC Rep. Chaz Beasley says was written in favor of Cintra to the detriment of the state.
"Excuse me, I find this news shocking candidly," Commissioner Gilroy said. "I don't think there is any question whatsoever what our citizens want to see happen here. To suggest otherwise is simply horse—-," Gilroy said. It's likely the board, under Washam's leadership as mayor, and with Miltich's consent, will put Naas on the advisory board. Miltich, who marched with anti-toll protesters on the Exit 28 bridge on several occasions, will have his hands full as mayor pro tem and as the town's delegate on the Charlotte Regional Transportation Planning Organization, aka CRTPO.
In the "never a dull moment" category, the notoriously tone-deaf Travis said he could appoint former Mayor Lynette Rinker—another supporter of the so-called "Lexus Lanes"—to the I-77 Advisory Board if he wanted to. But it's virtually a done deal that Naas will take the spot either tonight or before the first meeting of the board.
Other business too
Also at Monday's meeting, the town board will conduct the first public hearing on a request by True North Companies to develop approximately 4.7 acres of vacant land located at 8715 Westmoreland Road for the Vanderbilt Children's College, a 12,000 square foot Child Care Center with associated parking and a fenced in play area. The current zoning is Neighborhood Residential and the proposed zoning is Conditional Zoning.
The meeting will begin at 7 pm in Town Hall on Catawba Avenue.