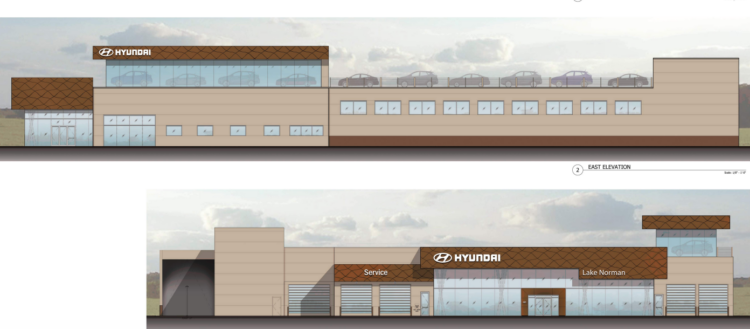 Sept. 14. By Dave Vieser. A change in plans for Lake Norman Hyundai in Cornelius was unanimously approved by the Town Planning Board at its meeting this week. The plan will now be sent back to the Town Board for final review and possible approval.
Background
TT of Lake Norman ST, hopes to gain final approval to amend its expansion plans. Currently there is a parking lot and one building that were approved in 2013 for the new location, 19926 Chartown Road. The 2013 approval was for three buildings, but only one was ever built. This request is to build one large building in the area that was approved for two smaller buildings.
"The proposed amendment will combine the previously approved two future buildings, which would have encompassed 35,500 square feet, into one future building totaling 44,482 square feet," said Town Planner Gary Fournier. "The proposed development will consist of an automobile sales dealership."
Will the dealership move? According to the applicant, they are moving the existing Hyundai business to the new building once it is completed. They will retain the old building for another one of their automobile brands.
Land Use Plan consistency
The Land Use Plan adopted by the Town Board on Jan. 6, 2014, designates this property as "Business Campus." The proposed development is "reasonable and consistent" with the uses shown in the Business Campus land use category and existing uses along Interstate 77" Fournier added.
What's in the area?
The properties to the south along Chartown Drive consist of the Life Fellowship Church and the new Lake Norman Chrysler Dodge Jeep Ram automobile sales dealership. The properties to the west consist of a vacant restaurant (Kobi Hero) and numerous small commercial warehouses in the Lake Norman Commerce Center Development.
What's next?
The amendment will be on the agenda for consideration by the Town Board at the Oct. 3 meeting.