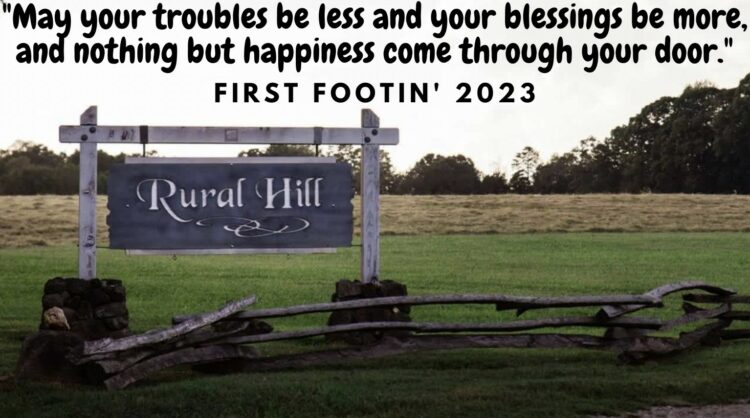 Dec. 29. Celebrate the start to the New Year with the annual walk and celebration of Hogmanay, or Scottish New Years at  Rural Hill.
First Footin' is the annual walk around the property at 4431 Neck Rd., Huntersville.
Schedule
Noon – Gather at Rural Hill in the Cultural Center.
1 pm – Step off for the First Footin' Walk: Wear comfortable walking shoes and appropriate clothing for the season. This will be a walk around the farm's 2.25-mile trail and historic sites, stopping along the way to discuss history and folklore. If you are not able to participate in the walking portion, please come out anyway and enjoy fellowship with others in the Scottish Heritage Library located in our Cultural Center.
2 pm – "Stone Soup" Blessing and Gathering: Participants will convene in the Cultural Center after the walk for a Blessing and gathering. Bring a picnic/boxed lunch in lieu of cooking "Stone Soup" and also a canned good item to donate to local food pantries. Rural Hill is  unable to do the traditional "Stone Soup" due to health department guidelines and look forward to starting a new tradition with you all.
Rural Hill is a 501c3 – your tax-deductible donations help sustain history and provide free programing to the public. Please consider
donating
to ensure that history is preserved and more free programing like First Footin'.
To access Historic Rural Hill, use the entrance on Neck Road.
The tradition
Following the Protestant Reformation in Scotland in the latter half of the sixteenth century, it was considered irreverent to celebrate dates of religious importance. Thus, merriment and celebrations were reserved for
Hogmanay
(pronounced Hog-muh-nay,) this important part of the year combined both New Year's Eve and New Year's Day with a celebration of good will and good fortune.
First footin'
The use of the term "first footin'," according to legend, is:
Fortune would smile on the household if the first person to set foot in the doorway on the New Year was a young man; presumably tall, handsome, healthy, dark haired, dark eyed, and bearing gifts (such as a lump of coal for the fire.)
Today it does no harm if the first footer carries a bottle of his best and favorite beverage to offer his host a drink and a toast, stating "Lang may your lum reek." This traditional Scottish salutation wishes its recipient long life and prosperity. It literally means "long may your chimney smoke."
Several towns throughout the hillsides of Scotland continue an age-old annual ritual of walking the town limits to restate or reclaim the boundaries of the township.
These traditions have been adopted as part of the Rural Hill Hogmanay (Scottish New Year) celebration, known simply as "First Footin'".
Traditionally, the fulfillments of Hogmanay's rituals and folklore have assured good crops, good health and good fortune in the coming year.