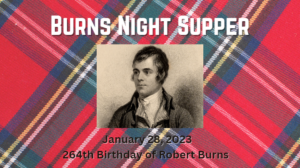 Dec. 5. Tickets are on sale for a traditional Scottish supper and celebration of the Burns Night, which is held in honor of poet  Robert Burns at Historic Rural Hill.
Space for this premier event is limited, and tickets must be purchased in advance. A raffle will be held during the evening and there will be a cash bar with beer, wine and Scotch whisky.
The event will include a three-course dinner and one pour of Scotch whisky for the toast to the memory of Robert Burns. 
The dinner will be catered by Savory Moments. The event will be hosted by Jack Pressley. The night will also feature live music from piper Phillip Diaz.
Burns Night Suppers are held around the world in celebration of poet Robert Burns' birthday on Jan. 25. The tradition started in July of 1801 when his friends met at his old home to celebrate the fifth year since his passing. A traditional Burns Night consists of haggis being piped in, a three course meal, several drams of whisky and performances honoring Burns' works.
Tickets are $80 per person.