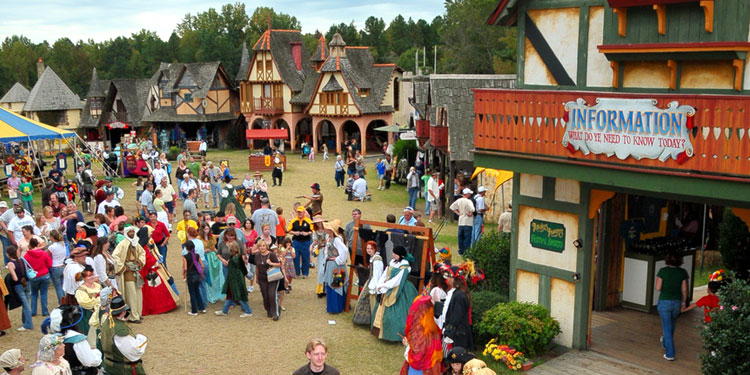 Sept. 3. As sure as the changing color of the leaves, for eight consecutive weekends in October and November the Carolina Renaissance Festival means trumpet fanfare, clashing armor and giant roasted turkey legs.
During the medieval times, fall was the Harvest Season celebrated by festivals and fairs.  This rings true as each Renaissance Festival day is filled with a bounty of attractions appropriate for all age groups.
Village purveyors offer an endless feast of bread bowl stews, premium meats on sticks, sweet treats and confections, and a favorite of all renaissance wanderers: a bag of cinnamon-roasted almonds!  Festival pubs offer variety of Pepsi products, craft beer, wine, champagne, ale, honey mead, lemonade and Medieval Margaritas to compliment the day-long feast of hearty foods fit for royalty!
Twelve stages offer an abundance of costumed performers offering continuous music, dance, comedy, and circus entertainments.  Sword swallowing, unbalanced acrobats, and the popular jousting tournament with horse mounted armored knights are all examples of the continuous entertainment options offered. Many of the shows are spontaneous and you will never know what happens next, on stage or off.
Shop an extensive array of craft vendors offering home décor, jewelry, clothing of renaissance and medieval fashion, blown and torched glass, handmade art and pottery.  There are also activities for children of all ages that include people powered amusement rides and countryside faire games such as the castle climbing wall, archery and tomato tossing at a fool
The fair runs consecutive weekends, Saturdays and Sundays, from Oct. 3 through Nov. 22. The Festival runs from 10 am until 5:30 pm, rain or shine.
More info: carolina.renfestinfo.com