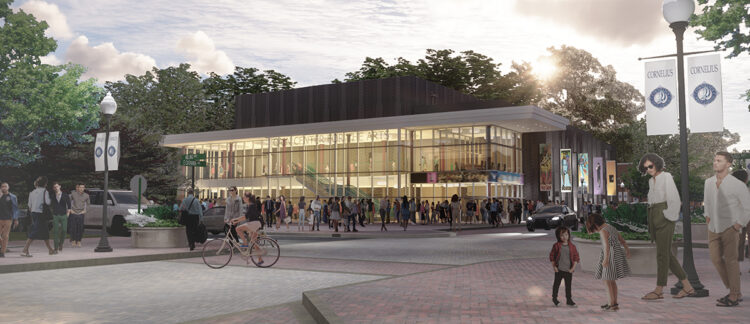 June 17. By Dave Vieser. The $25 million Cain Center for the Arts will add a magnificent new design element to Cornelius. The contemporary structure will stand amidst neo-classical municipal buildings, quaint downtown structures and mill houses and cottages nearby.
Named for Cornelius residents Ericka and Bill Cain, who contributed $5 million to the project, it is expected to be completed in December of next year.
Demolishing the existing concrete slabs is under way.
The 30,000 square foot structure will house a wide variety of activities and events. While it is not LEED certified (Leadership in Energy and Environmental Design) the building will be full of sustainable features, according to Joe Humphrey, project manager with Charlotte-based Edifice General Contractors, the winning bidder.
They include:
• High efficiency glazing and curtain wall framing to reduce energy loss and reduce thermal gain
• Overall goal of diverting at least 50 percent of typical construction waste to recycling facilities
• Utilize local materials/manufacturers wherever possible, including
• Local mechanical system manufacturer
• Local brick masonry
• Local pavers used in plaza
• Using reclaimed wood where possible from existing mill buildings
• Installing water reducing plumbing fixtures throughout the structure.
• Daylight views provided from all regularly occupied spaces where possible.
• LED light fixtures used throughout which will  reduce electrical consumption and heating loads
The building includes a 400 seat theater, two visual arts classrooms, a dance studio and conference room, a two-story lobby,  Gallery space, along with backstage support spaces, a green room and a wardrobe room.
Edifice's winning bid was $16 million—some $2 million less than expected.
Justin Dionne, executive director of the Cain Center, said the fund-raising process continues, despite the lower cost.
"While the construction bid did come in about $2 million less than we thought it could, that does not mean that we have achieved 'savings.' We still have over $5 million to raise to achieve our campaign goal of $25 million and we won't know if it is actual savings until the project is complete."
Words of the Architect
"The Cain Center for the Arts will be an exceptional place to experience and participate in the arts in the Lake Norman region.  We invite individuals of all ages to the Center to engage in activities as audience members and as active participants, both in the new structure and outside it. This will make the Center a singular creative destination in the community. The 400-seat theater is designed for many types of events from performances to meetings and banquets. All seats will be less than 15 rows or 50 feet from a presenter, and in some formats much closer.  This makes for direct contact between all participants in a distinctive setting. It will complement and add a special new presentation space to the well-known ones already among Mecklenburg County places of entertainment."
— Malcolm Holzman, FAIA  Steinberg Hart | Holzman Moss Bottino Architecture