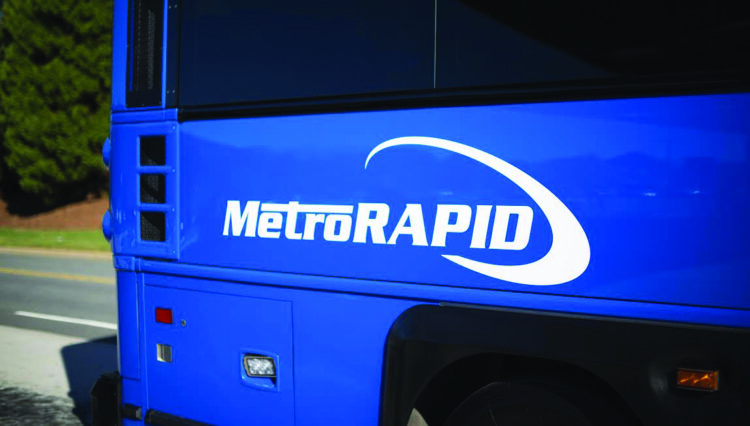 Dec. 20. By Dave Vieser. When developments such as Antiquity were built, prospective buyers—many of whom lived and worked in Charlotte—were told that a commuter rail line would be built along a nearby freight line, to provide swift transportation to and from the Queen City without encountering I-77 delays.
However, several issues arose over the past decade, most notably Norfolk Southern's refusal to allow access to its right-of-way. With little indication that this situation would change, CATS (Charlotte Area Transportation System) has launched the I-77 Bus Rapid Transit Study.
What is BRT?
BRT is an express bus service which would connect Lake Norman to Uptown. The BRT would essentially replace the planned commuter rail service, known as the Lynx Red Line, that was routed along the existing Norfolk Southern O-Line right-of-way. To be called MetroRAPID, it's a rebranding and overhauling of four existing express bus routes, designed to utilize the I-77 toll lanes. The target date to launch service is 2029.
According to Project Manager Brian Nadolny of CATS, the BRT Study intent was to examine ways of getting the express buses from the interstate more directly and efficiently. The current express bus from Cornelius Park and Ride—Route 77X—feeds in and out of town using West Catawba Avenue. "In Cornelius, we particularly looked at ways to avoid travel on congested West Catawba Avenue," said Nadolny.
Projected routes at Exit 28
"Unfortunately, the Cornelius Park and Ride lot is farther from the interstate than we would like and there is no median on I-77 at Exit 28," he said.
The suggested modified express routes assume that Cornelius buses would not also go to Davidson, as they do now.
Northbound: Buses would need to move over to the general purpose lanes, and then access the Exit 28 exit ramp, cross over  I-77, then turn left onto the southbound ramp and merge onto a new bus-only lane on the right. That lane would merge with Chartwell Center Drive, and buses would then use Liverpool Parkway and Sefton Road to reach the Park and Ride lot.
Southbound: Buses would take Liverpool Parkway to West Catawba Avenue, then enter I-77 for the express lane trip south to Charlotte.
Nadolny also said that CATS would link into any construction of a future Exit 27 at Westmoreland Road, which could theoretically provide another express lot close to the interstate.
Current express bus ridership
It's been a rollercoaster  for obvious reasons. Route 77X covers both Cornelius and Davidson.  There are currently a total of 17 trips per day. Pre-pandemic, CATS was operating approximately 31 trips per day. Currently, they are operating on a 20 minute frequency from the Cornelius Park and Ride lot during morning and evening rush hours.
Ridership figures show how the pandemic impacted use of the 77X express buses:
• February 2020: 6,711 total trips
• April 2020: 60 total trips
• October 2020: 398 total trips
• October 2021: 1,300 total trips
CATS increased frequency on many Express bus routes in July 2021 in anticipation of increased demand due to businesses returning to in-person work.
Will the ridership figures return to pre-pandemic levels?
That's hard to say, but in a recent international poll conducted by Mass Transit magazine and Hitachi, 92 percent said it will be lower than we were used to seeing before the pandemic.
Weekend service? 
There is no weekend service at the moment but there may be in the future. "The BRT study calls for additional service during days, nights and weekends too," said Juliann M. Sheldon, CATS community relations manager.