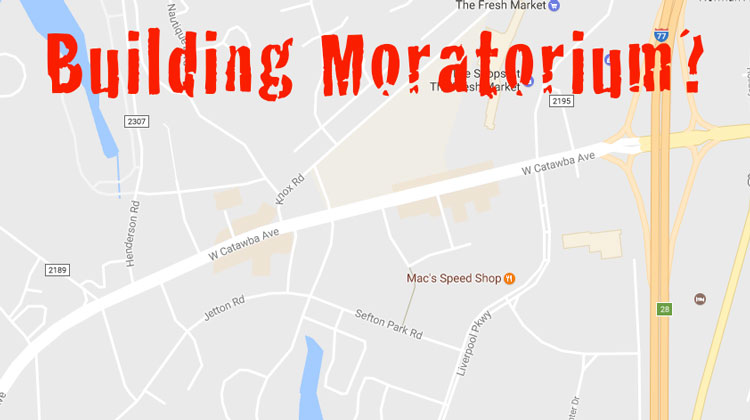 March 30. By Dave Vieser​. UPDATED. In a rare move, Cornelius town officials are proposing a moratorium for subdivisions and development permits within the Highway Commercial District West of I-77. The proposal was added late Thursday to the Monday April 3 meeting agenda and a public hearing will be conducted prior to any decisions.
​The district goes fr​om I-77 west to the One Norman Boulevard area near Starbucks and Bank of America. Knox Road is the northern boundary; Sefton Park, where the the CATS station is going, is the southern boundardy.
Planning Director Wayne Herron said the moratorium stems from ​planned NC​DOT ​improvements at the Torrence Chapel/West Catawba intersection. That ​plan, which was reviewed at the last board meeting on March 20, would retain left turns until traffic volumes increased beyond certain pre-determined levels.
"Concerns were expressed regarding how development may be reviewed and allowed within the vicinity of that intersection. Traffic impacts may indeed play a role in the timing and growth of average daily traffic (ADT) volumes," Herron said.
NEW: Town Commissioner Jim Duke said a moratorium would be a short "rest" period in order to allow the board and staff to assess the impact of traffic upon the DDI and the Torrence Chapel intersection.  
​Interestingly, ​the district includes what's called the Hannaford site, a large parcel of undeveloped land between Knox Road and West Catawba. Cornelius Today has learned that developers are interested in breaking the property up so that it can be developed outside of review by the Town Board.
​It's all government-speak right now, but it looks like the town is playing its hand around more careful development. ​Cornelius Today will report live from the Town Hall meeting Monday night. The meeting starts at 7 pm.​
"The time required for developing, publicly debating and implementing such map and text amendments could result in possible development or redevelopment applications being filed that would be inconsistent with the goal of maintaining the left turn movements at Torrence Chapel/West Catawba to 2035 or beyond" Herron added. "For this reason, we are proposing a temporary development moratorium of sixty (60) days while map and text amendments are developed, publicly debated and implemented."
Also at Monday's meeting, the town board is expected to consider a unique project called ​"​Boatyard Eats​." ​The owners, Old Swan Development LLC of Chapel Hill, will be seeking conditional zoning in order to operate a combination music and food venue on the site of the long vacant ​marine business at the northeast corner of Highway 21 and Westmoreland Road.
Finally, the board will also consider approving Classica Home's rezoning request which would permit them to build 22 ​upscale ​single​-​family homes on Washam Potts, just northeast of the Washam Potts-Westmoreland Road intersection.