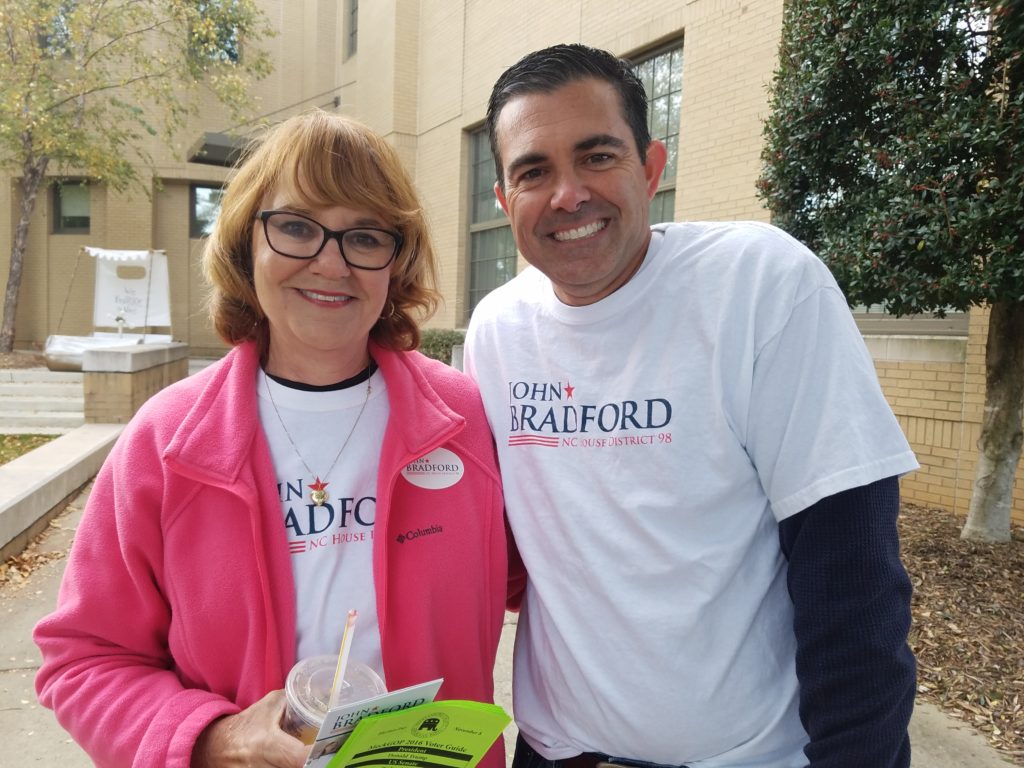 Nov. 8 By Dave Vieser. [11 pm]  With 11 of 12 precincts reporting, and a lead of 24,056 to 18,475, incumbent John Bradford has defeated unaffiliated challenger Jane Campbell. This race was supposed to be the most competitive in the area, but Bradford has won a second term in the NC House. He pulled out in front in early voting, and continued to rack up impressive vote totals, including 2:1 victory margins in some precincts. Campbell's best showing was Precinct 206 in Davidson, where she beat Bradford by a 60-40 margin. Bradford campaigned at Town Hall with his mother Ann today (picture).
Bradford is the founder of Park Avenue Properties, a Cornelius-based residential property management and real estate investment firm with operations in three states and eight cities. Prior to starting his own business the Clemson graduate worked for IBM and ExxonMobil.
Bradford is one of the standard-bearers of the younger Republican Party and a leader in the anti-toll battle. With an outgoing personality, a quick grin, street cred among the anti-toll forces and $50,000 in his campaign war chest, he clearly was the man to beat in this contest.
Campbell, a Davidson College graduate, was spurred to run by her opposition to HB2 — and by Bradford's sponsorship of the bill. Because the filing deadline had passed by the time HB2 became law, Campbell had to collect signatures to get on the ballot. She spent many a day collecting signatures, enough to appear as an unaffiliated candidate.