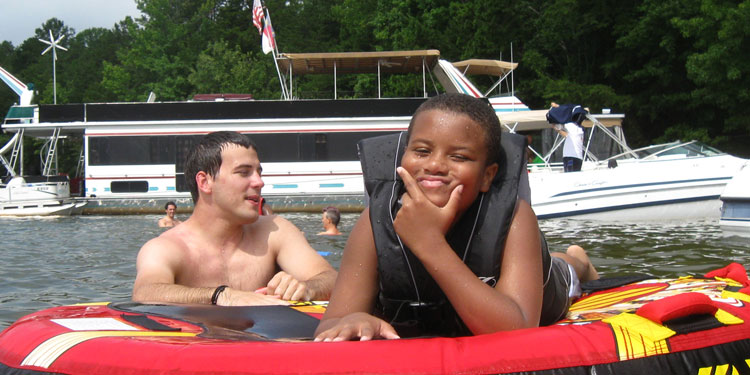 July 6. Big Day at the Lake has blown through its financial goals for 2015, but Boat Hosts are still very much needed to take at-risk kids from Big Brothers Big Sisters out on Lake Norman and Mountain Island Lake for Year 11 of Big Day at the Lake. The event is Saturday July 18; the deadline to register is Friday, July 10.
"Big Day at the Lake is always a lot of fun and the joy on these kids' faces is priceless," said Boat Host captain Robert Reed. Each child from Big Brothers Big Sisters comes with a built-in chaperone—his or her "Big," a carefully vetted adult mentor.
Please register online at www.bigdayatthelake.com.
Boat Hosts take kids in the BBBS program tubing and swimming in the morning. All bring signed liability waivers. Many Boat Hosts join together for group raft-ups or fun on islands. The day ends with a picnic at the Energy Explorium for as many as 600 people.
Many local employers and national corporations are BDATL sponsors. The Presenting sponsor is PayPal. Admiral and Captain sponsors include ACN Inc., Lake Norman Chrysler Jeep Dodge, American Tire Distributors, Aquesta, Cornerstone Financial Partners and Duke Energy, Champion Tire & Wheel, Coca-Cola and Grant Thornton. Community-based sponsors include Lake Norman Kiwanis and North Mecklenburg Rotary.
The goal this year was $80,000 in cash for Big Brothers Big Sisters. While checks are still coming in, it looks like $85,000 has been received for BBBS this year. Big Day at the Lake has virtually no overhead, thanks to the generosity of in-kind gifts from companies like Alpha-Graphics (printing)  and restaurants ranging from Alton's Kitchen & Cocktails to Mama's Pizza.
Big Day at the Lake has three goals: Provide a day of fun on the lake for at-risk kids in BBBS; raise money for a worthy non-profit; and recruit Bigs, or mentors for at-risk children all over Mecklenburg County, including some 250 in North Meck alone.