May 3. Boaters are encouraged to sign up early to host a Big/Little team for  Big Day at the Lake.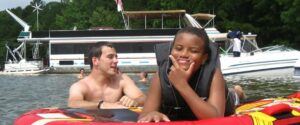 Big Day at the Lake will be Saturday, July 16 and Boat Hosts are needed to take the Bigs and Littles out on Lake Norman for a morning full of fun before the picnic at the EnergyExplorium in Huntersville.
On the day of the event, July 16, you can expect the following:
From 9 a.m. to 1 p.m.
* The Big Brother/Sister and their "Little" will drive to the place of departure, a home or marina, for the purpose of enjoying the water with the Boat Host family.
* The children enjoy swimming, fishing, tubing and other water activities a child would normally enjoy.
* Boat Hosts often pack snacks and juice to carry on the boat to enjoy while on the water.
* You may want to invite friends and neighbors to signup and enjoy BDATL together. Some Boat Hosts coordinate raft-ups for group fun.
* The Big Brothers Big Sisters organization will obtain participation waivers for each child participating in the event.
All Littles are required to wear a life jacket.