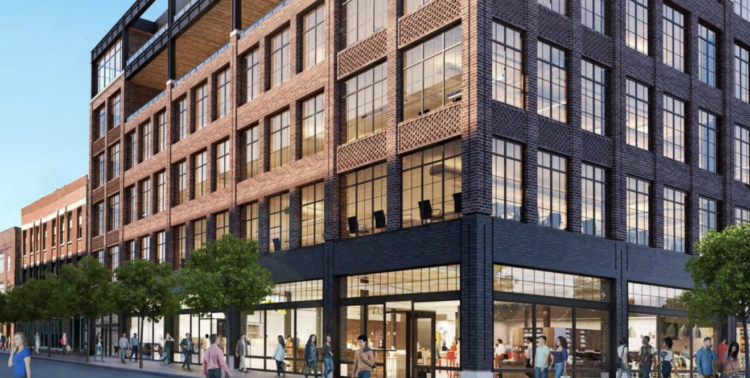 March 21. By TL Bernthal. The Huntersville Town Board voted 4-2 to deny the rezoning request that would have allowed construction of Class A office space and a parking deck at Birkdale Village.
Critics in the adjacent residential neighborhood that in both Huntersville and Cornelius have been vocal about concerns about traffic flow, parking and building height have been telling town leaders that approval would harm the character of the village.
Last night, 15 critics spoke —including a teenager who said he and his friend don't want to be priced out of shopping there—during the hour-long public hearing before the vote, thanking the board for listening to them and reminding everyone that they are not against change and growth, but they want it to be the right change and growth.
They greeted their victory in silence while in the board meeting chambers and Mayor Melinda Bales recessed the meeting to allow the crowd to leave before the board took up other business.
Support for what would have been
Only recently have supporters of the DDRTC Birkdale Village LLC application added their voices at board meetings. Last night, six, including North American Properties representatives, spoke.
At stake was a Class A office building and retail that would have occupied 175,000 square feet: Six stories with 150,000 square feet of offices over the Barnes & Noble book store.
If it had been approved, a parking deck with 450 spaces would have been added above the existing two-story garage adjacent to the green.
A 125-room, seven-story, boutique hotel and 350 multifamily units apartments were removed from the original plan.
If approved, the remaining $80 million project would have generated $170,000 annually in property taxes, according to NAP. Plus, there would be construction gigs, new jobs in the office and potentially increased sales tax revenue, Lant said last night.
NAP could reapply and restart the process.
The vote
Commissioner Dan Boone made the motion to deny the request, and Rob Kidwell seconded it. Commissioners Derek Partee and Amber Kovacs joined them in the vote to deny.
Commissioner Lance Munger and Stacy Phillips voted against the denial. Phillips, who operates the family business Old Store Produce, said she was going to abstain after receiving veiled threats but changed her mind in consideration of the benefits other small businesses would get from the changes to Birkdale Village and the Need for Class A office space.
Munger said the building height was not an issue for him. If people saw the tall building from a distance, they might come to check it out and spend money at other village retailers. The parking deck would help solve the real or perceived parking problem. And traffic flow would be remedied by extending Townley Road to Northcross Drive, pulling traffic over to where Rubbermaid is located and providing a third access point to Sam Furr Road for Birkdale Village. That bridge project might cost $10 million to $15 million, with NAP expected to contribute $2 million.
Before the vote, the board asked Mike Lant, senior vice president of development at North American Properties,  if NAP would consider reducing the 110-foot height of the office building; the proposal was for six stories of offices over retail, or  seven stories total.  The maximum allowable height of a structure in Huntersville is 48 feet.
Earlier in the meeting, comments around a four-story office building were suggested. That wouldn't work nor support building a parking deck, Susan Irvin, the local lawyer for NAP, said.
Lant said NAP would consider reducing the height by one floor, looking at ramifications and seeing if it were feasible.
That became moot a few minutes later when the motion to deny was made and commissioners spoke on why they were going to vote the way they were. The motion included thoughts on not wanting to change the character of the village.
Partee called it a tough decision and said he began spending more time in Birkdale Village in the months before this vote. He even set up his office in the Barnes & Noble, where he saw a young woman who had attended a meeting in October also hanging out. Partee checked and the 25-year-old had voiced objections over changing the character of Birkdale Village at that meeting and told the board that the Barnes & Noble village was her comfort and refuge during tough times.