Nov. 17. If you got caught in the Christmas Tree lighting event traffic jam last year at Birkdale Village, they're trying to alleviate some of the issues this year. The event kicks off at 2 pm Saturday Nov. 18, but parking is expected to fill up quickly.
Birkdale Village management suggests car-pooling and ride sharing. There will be a valet near Dick's Sporting Goods.
The parade starts at 4:30 pm; tree lighting at 6 pm.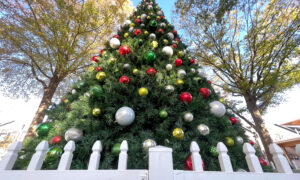 Schedule of Events:
2-4 PM: Activity Row
Take the family for a stroll along the Parkway for face painting, balloon art, caricatures, stage performances, and more! DJ Micki Blendz will also take the stage playing festive tunes.
2-10 PM: Birkdale on Ice
Lace up your skates! Birkdale on Ice officially opens for the season and kicks off with a magical skating performance at 2PM.
2-7 PM: Birkdale Biergarten
Grab delicious beverages from Hoptown Brewing, Royal Bliss Brewing Co., Lost Worlds Brewing, and Suffolk Punch Brewing at the Birkdale Biergarten located between Red Rocks Cafe and Fox and Hound.
2:30-4 PM: Dance Performances
Enjoy dance performances from local studios between Bad Daddy's Burger Bar and Fin & Fino.
4:30 PM: The Parade
The festive annual parade begins and Santa arrives in style alongside dancers, first responders, the Hopewell High School Marching Band, and more. The parade will go around the whole loop of Birkdale Commons Parkway. Maney & LauRen from Kiss 95.1 will be joining us to host the parade and tree lighting ceremony!
5:30-6:00 PM: Find Your Place
A festive party band will take the stage in The Plaza to get everyone ready to light the tree! Grab a snack or a beverage and take your place near the tree.
6:00 PM: Tree Lighting Ceremony Begins
Help Santa countdown to the lighting of our magnificent tree to kick off the perfect holiday at Birkdale Village in The Plaza! Please note the tree lighting ceremony will not begin immediately after the parade. The ceremony will start promptly at 6PM.
6:15 – 7PM: Dance the Night Away
Dance and jam out with The Hit Men to end a magical night at the main stage in The Plaza!
The 26-foot tall Christmas tree has more than 900 ornaments.