Jan. 25. Big Day at the Lake will be back this summer on July 16, with plans to bring back the picnic at the Duke Energy Explorium barring unforeseen circumstances.
The event, which supports at-risk kids in Big Brothers Big Sisters of Central Carolinas, brings people together who wouldn't otherwise come together for a full day of fun on Lake Norman starting with swimming, tubing and fishing in the morning, then a picnic for hundreds of participates at the Explorium.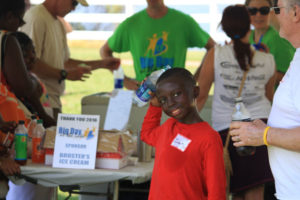 Background
Most of the BBBS children have never had the opportunity to enjoy Lake Norman—except for Big Day at the Lake
On the Big Day itself, families sign up to be "Boat Hosts" and take the "Bigs" and "Littles" out for a morning of Lake activities.
All of the children come with a built-in chaperone, their Big Sister or Big Brother, who are fully vetted by Big Brothers Big Sisters.
Big Day at the Lake has three simple goals:
• Provide a full day of fun on Lake Norman for at-risk children in BBBS.
• Recruit Bigs or mentors for an effective organization with a single mission
• Raise money for Big Brothers Big Sisters, which has high ratings for management of funds
This year's goal is $100,000.
If you are interested in sponsoring or donating, email nebiztoday@gmail.com
Big Day at the Lake was held as planned last year, but without the picnic. The entire event was cancelled in 2020 due to the pandemic. Duke Energy has provided the picnic facility since Big Day at the Lake began in 2004.