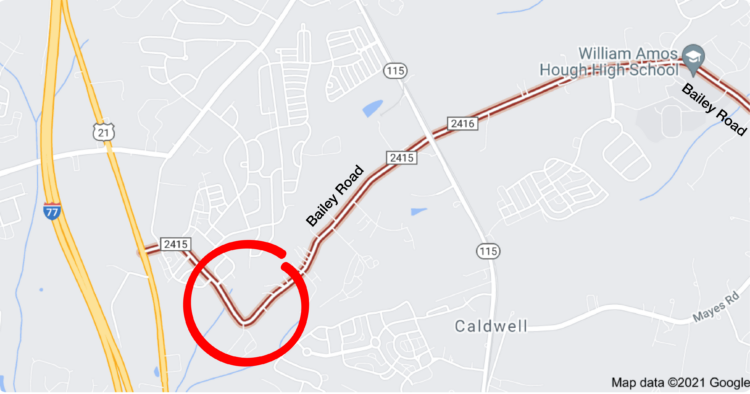 Oct. 7. By Dave Vieser. The NC Dept. of Transportation is seeking public comments about plans to extend Bailey Road westward on a new straighter route to Hwy. 21 in Cornelius.
How to comment:
Project Email: [email protected]
Project Phone Number: 984- 205-6615 enter project code 4806
Comments should be submitted before Nov. 5.
The specific plan would extend and realign Bailey Road about a half mile from the sharp turn at Poole Place. The current signal controlled access to Highway 21 at Bailey Road will not change.
Design will also include:
—A roundabout connecting Bailey Rd., Bailey Rd. Extension and Poole Place Dr.
—Removal of the sharp curve in the existing Bailey Rd. alignment
—A 10 foot multi-use path to connect the roundabout to the Caldwell Station Creek Greenway
Details
The future intersection at Hwy. 21 will be adjacent to a yet-to-be-built Atrium Medical Office Building.
This project does not include future plans to extend Bailey over I-77 to Northcross Drive extension.
Construction on the $7.2 million project is currently scheduled to begin in the spring of 2023.