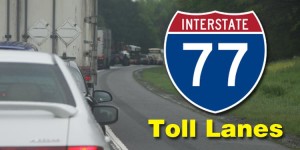 March 9. By Dave Vieser. A bipartisan bill, HB266, which calls for the state to cancel the contract for the I-77 toll lanes, was introduced this week by  Rep. John Bradford (R-98), a Republican, and Rep. Chaz Beasley (D-92), a Democrat.. The legislation is the latest effort to cancel the 50-year contract with I-77 Mobility Partners, a subsidiary of the Spanish firm Cintra. The company is constructing the $650 million 26 mile project from Mooresville southward into Charlotte.
The new bill also calls on the state DOT to pay any penalties or damages from unobligated funds available to the department.
"I remain steadfast in my efforts to terminate the rolling project," said Bradford. "Rep. Chaz Beasley and I are working together on this issue in a bipartisan way because the tolls are not a partisan issue." Beasley said there is broad bipartisan consensus in our community "that the toll contract needs to go."
"I'm glad we can work across party lines to file and push for this important bill,"  he said.
Last year, similar legislation passed the State House by a 3:1 margin, but it was never introduced in the Senate for consideration. Separately, NC Sen. Jeff Tarte has called for the state auditor to "audit and investigate the RFP and contract (documents and processes) for the I77 toll road project between the state of North Carolina and Cintra/I77 Mobility Partners."
Ordinary citizens, businesses and political leaders have protested the deal almost from the beginning. Meanwhile, accidents in the construction  zone, which is not marked, have risen. Problems include narrow lanes.
The toll lane contract cost former Gov. Pay McCrory re-election in November.