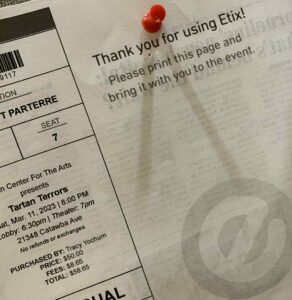 Feb. 24. By TL Bernthal. Scammers have figured it out: They can offer tickets to sold-out performances, hoping to get payment for something they don't really have.
A victim may never get the ticket, or find out at the door that what they think is a ticket for admission is a fraud.
Justin Dionne, executive director  at the Cain Center For The Arts, says the theater industry is aware of the trend.
He raises the caution flag about tickets you may find on Facebook or other social media to sold-out Cain Center or other theater performances like at the Blumenthal.
Dionne recommends ticket purchase via E-tix; the links to purchase tickets on cainarts.org take you there.
Dionne says patrons have shown up at the Cain Center with tickets bought from a third party  and they don't scan. "They are not scanning because they are not from our provider," Dionne says.
In one case, the third party selling the ticket mislabeled the ticket for a later performance. That could have been a mistake, or a scam.
Dionne says, so far, the center has been able to work with people to get them into the performance, but in different seats. There's no guarantee that will happen for a particular performance or in the future, he says.
Be warned
Recently the Cain Center told this to Instagram followers: "There have been some comments on our Facebook posts of individuals saying they are selling tickets to our shows, and as part of our mission to be a community, we want to make sure you are aware of this scam.
"Cain Center for the Arts performances and class tickets are ONLY sold through our site or E-Tix. We DO NOT have resellers."
A ticket purchaser can resell a ticket, "although, we want all of our patrons to know that we cannot verify the validity of re-sellers or any tickets purchased on a secondary market," according to the Instagram post.
"We care about our customers and we want them to see the performance," Dionne says.
The center has a no-refund ticket policy with an option to buy ticket insurance, which may be the best hedge against a last-minute change that means you can't use your tickets, he says. The insurance means you're covered for the cost, and you don't have to try to re-sell your tickets to recoup the cost.
The new theater has presented five performers in seven performances, and six performances have been sold-out, according to a February update from Anita Overcash, development associate.
Here's what one scam looks like
An unscrupulous person can buy tickets to a show, get the e-mail confirmation, and then print out and sell multiple copies of it to unsuspecting ticket buyers, according to NYTIX.
When these people begin arriving at the theater, only the first person to present one of these e-mails to be scanned will be able to get in — the others will be denied.
There is no way to ensure that e-mail confirmation tickets purchased from a third party are unique, so the best advise is to never to buy these kinds of "tickets" from someone you don't know.