Jan. 11. Bank of America's Cornelius branch has reopened a week after it closed unexpectedly. Customers can access safe deposit boxes, as well as any account or branch services. Drive-through windows are also open.
The branch at 20005 W. Catawba did not open on Monday morning Jan. 4. There was apparently no prior notification to customers.
The FDIC requires an insured depository institution to submit a notice of any proposed branch closing to the appropriate federal banking agency no later than 90 days prior to the date of the proposed branch closing, so this was a temporary measure.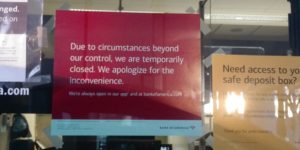 "We apologize to clients for any inconvenience this may have caused," said BofA spokesman Mark Pipitone. He said bank officials were operating with an "abundance of caution during the pandemic."