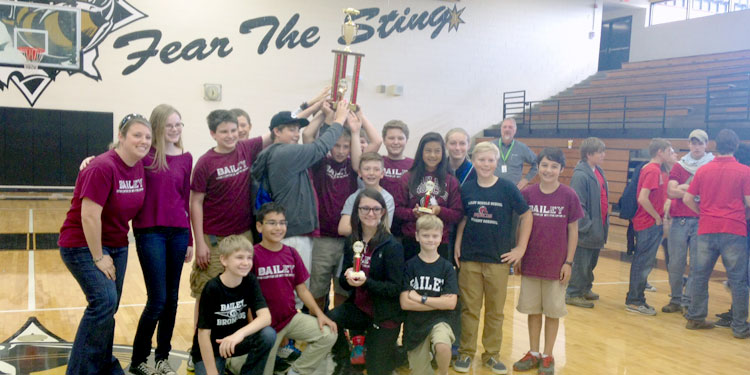 By Dave Vieser. Horsepower Motorsports, Bailey Middle School's businesslike—and fun—model car racing team, will go to Houston, Texas next month to compete in the national finals for 1-10th scale radio-controlled model cars.
Bailey's team, which started in 2013, has amassed an impressive series of accomplishments in their short existence. Think Science, Technology, Engineering and Math on four wheels.
Students modify and race the cars against other teams while using cooperative learning and team building. The team believes in hard work and working together.
Seventh grade teacher Stephanie Coggins, who formed the team, explains that each student plays an important role. The team runs like a business. This season they placed first overall in the Carolinas Invitational's competition, including first in graphic design, first in marketing and first in driving. In 2013, the Bailey team placed first overall in the Carolinas Invitational's competition, and placed first at the national competition in driving.
They even have a web site: www.horsepowermotorsports.weebly.com. It comes complete with a video most small businesses would be proud of, as well as well-stated objectives like "Whether we succeed or fail, we always have fun," and "We collaborate."
Bailey's team got into high gear after Coggins spent three days at a workshop in 2013 learning how to coach a competition team and integrate STEM into the school's curriculum.
They compete at a regional and national level with other middle school and high school teams. The team is comprised of 20 sixth, seventh and eighth graders, male and female.
Replicating the approach of NASCAR teams, each student either runs or is part of a department, including graphic design, marketing, community outreach, web design, aerodynamics, robotics, renewable energy, and creative engineering.
The approach is paying off.
The Bailey team has already been awarded a grant from the Charlotte Hornets Foundation for $2,500 and an additional $595 from Delta Kappa Gamma, a professional women educator's organization. In addition, they are holding the first annual Horsepower Motorsports Charity Golf Tournament sponsored by Speedway Motorsports on Monday April 27 at River Run Country Club in Davidson. "All of this will help us prepare for the resources and transportation costs necessary for the trip to Houston in May," Coggins said.
Information
More information on the first annual golf tournament to benefit the Bailey Middle School Horsepower Motorsports Team is available at www.horsepowermotorsports.weebly.com/golf-tournament.