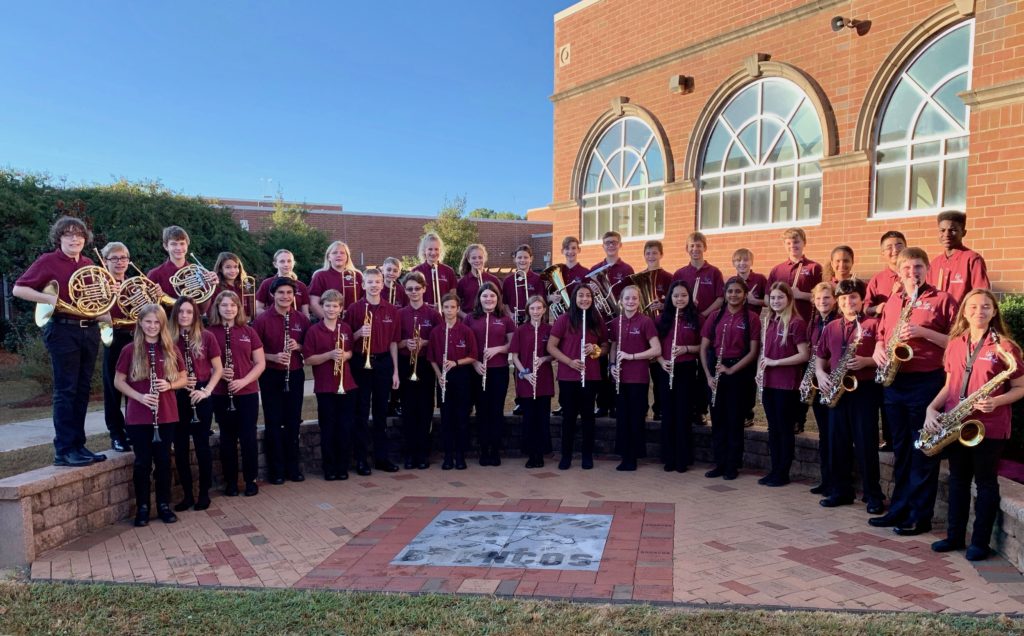 The Bailey Middle School Performing Band will hold a preview concert Nov. 4 at the Hough High Auditorium to prepare for the NC Music Educators Professional Development Conference one week later. The Bailey band was selected by blind audition to perform at the conference, the highest honor for a middle school band in North Carolina.
The NC Music Educators performance is at 5 pm Nov. 11 at the Benton Convention Center in Winston-Salem. Band director Ruth Petersen leads the students.
Band members include Zoe Agostinelli, trombone; Keller Cameron, percussion; Sierra Childers, clarinet; Gustavo Cruz, clarinet; Devin Curley, F horn; Addison Davis, flute; Anna Eakins, flute; Kaeden Eddie, trumpet; Riley Gardner, euphonium; Zane Haney, euphonium; Adam Jansen, alto saxophone; Cassie Jones, trombone; Haley Kuvenhoven, trombone; Makenna Lackey, clarinet; Donaven Lockcuff, trombone; Rachael, Lorenz, flute; Jonathan Magana, percussion; Alexis Malayan, flute; TyJon McDonald, percussion; Cate Meininger, clarinet; Samantha Mell, flute; Johan Middelthon, percussion; Shiva Palpanoori, flute; Miley Parks, flute; Zachary Plaisance, alto saxophone; Julissa Quinones, tenor saxophone; Tierra Sawyer, percussion; Mason Scavo, trombone; Gavin Schible, percussion; Anderson Shelkey, tuba; Ben Sheppard, trumpet; Sam Taylor, F horn; Jonathan Thompson, F horn; Leo Trainum, trumpet; Kaitlin Turney, trombone; Ethan Tyrell, flute; Griffin Williamson, trumpet; Mary Wunder, alto saxophone; and Michele Ziegler, trombone.