Aug. 20. The American Red Cross/Greater Carolinas offers these reminders to commuters and other drivers as the school year begins.
Drivers: Slow down
Drivers should be aware that children are out walking or biking to school and slow down, especially in residential areas and school zones.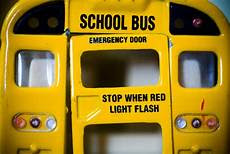 Motorists should know what the yellow and red bus signals mean. Yellow flashing lights indicate the bus is getting ready to stop and motorists should slow down and be prepared to stop. Red flashing lights and an extended stop sign indicate the bus is stopped and children are getting on or off.
Motorists must stop when they are behind a bus, meeting the bus or approaching an intersection where a bus is stopped.
Motorists following or traveling alongside a school bus must also stop until the red lights have stopped flashing, the stop arm is withdrawn, and all children have reached safety.
This includes two and four-lane highways. If physical barriers such as grassy medians, guide rails or concrete median barriers separate oncoming traffic from the bus, motorists in the opposing lanes may proceed without stopping.
Do not proceed until all the children have reached a place of safety.
Prepare for emergencies
Know what the emergency plan is at your child's school in case a disaster or an unforeseen event occurs. Develop a family emergency plan so everyone will know who to contact and where to go if something happens while children are at school and parents are at work. Details are available.
Take a first aid class
The Red Cross First Aid App provides instant access to information on handling the most common first aid emergencies whether it be before, during or after school. Download the app for free by searching for 'American Red Cross' in your app store or at redcross.org/apps.
 Learn and practice first aid and CPR skills by taking a course so you can help save a life.