Feb. 12. By Dave Yochum. Let's be honest. Almost no one could have seen the pandemic coming at the very beginning of 2020.
Josh Wood didn't, nor did hospital administrators, public health officials and elected officials. Indeed, it wasn't until March 3, 2020 that North Carolina reported its first COVID-19 case.
"I want to assure North Carolinians our state is prepared," Gov. Roy Cooper  said on March 3 last year. It depends on how you define "prepared." From that first case last March to early this month, North Carolina has gone from one case to more than 750,000 cases; from no deaths, to more than 9,350 deaths.
In a relentless pandemic, most of the deaths due to the coronavirus have occurred among the elderly and those in congregate living settings like nursing homes and assisted living.
Autumn Care was hit hard and soon became the epicenter of the deadly virus by the time spring of 2020 was under way.
"Under no circumstance would we ever have thought we'd be in a national pandemic, let alone worldwide," said Wood, the top administrator at Autumn Care in Cornelius.
There were times when they had outbreaks such as the flu, but they were able to get them under control in a short period of time, Wood said.
"But nothing like this," the Mooresville resident said.
Background
Wood grew up in Mooresville, played lots of baseball and majored in Healthcare Management at Appalachian State University where he took courses in gerontology and business management. At summer jobs like Auto Bell car washes in Mooresville, Statesville and Boone, he had hands-on experience in policies and procedures.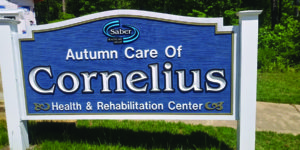 His professional career started right off the bat with Autumn Care with an assistant admin position in Statesville, and then onto the Waynesville Autumn Care where he was the administrator.
He was here in Cornelius for the opening of the 102-bed facility six years ago. The Autumn Care complex, complete with a gymnasium and hair salon, was a dream come true for the Cornelius and Mt. Zion United Methodist Church leaders who planned for a senior campus where the elderly could "age in place." Autumn Care, a private company, leased the land from Mt. Zion; the church does not own or operate the facility. Later on, it was acquired by Saber Healthcare, a major operator of nursing homes on the East Coast as well as Indiana and Ohio.
It was a great chance for Wood to grow as a professional in his chosen career. "I've always loved the leadership component. I love being part of a team that has high expectations and goals, and for us to sit together and figure out how to accomplish those goals," Wood said.
Heartbreaking
No one could have seen what was coming.
Indeed, the coronavirus hit Autumn Care in Cornelius particularly hard, with 16 patient deaths in a short period of time. The facility went on full lock-down, with no physical visits and residents limited in their interactions with families.
At times, there were two or three hearses outside the facility.
"It's almost like it's a new norm, with the end in sight not being until the end of this year." –Josh Wood
"It was heartbreaking," Wood said. "It was unlike anything I would have thought or dreamed."
It was as hard or harder on those patients who died alone and their families.
Adult children of residents stood outside patient windows and tried to communicate with their parents, some of them suffering from other ailments including dementia. Workers, meanwhile, grew restive as personal protective equipment, including medical grade masks, were unavailable.
Lean and athletic, Wood nevertheless lost 20 pounds but he did not catch the coronavirus.
Multiple deaths
By the end of April, there were 10 deaths due to COVID-19. By May 4, there were four more patient deaths, and 21 cases among staff. At the time, only seven other nursing homes and long-term care facilities statewide had more COVID-19 cases. All told, 16 Autumn Care patients passed away due to the coronavirus before the outbreak was deemed over a few weeks later by the NC Dept. of Health & Human Services.
"As we learned more and more about the virus, we realized what we could do and couldn't do," Wood said. "We realized we did all we could do at the time."
Flash forward to the end of 2020, and Autumn Care was near the top of the list to receive an allocation of vaccines for patients and staff.
Some 95 percent of residents chose to be vaccinated. Patient rights allow anyone to opt out of the vaccine.
And Wood himself, age 32, got the his first dose as a front-line worker. That was Jan. 7.
He tested positive four days later, having possibly stood on line with another staffer who later tested positive. They were both wearing masks, testament to how contagious the virus is.
Wood, whose symptoms included a sore throat, chills and headache did not have a fever. His wife and 18-month old did not catch the virus.
Turning a corner
Vaccines are key, he said. "We will only go as far as the vaccinations take us. if people aren't taking the vaccinations, we will still be in the pandemic state."
Things have changed. PCR testing (polymerase chain reaction) took seven days, now there are 15-minute rapid tests.
"We know more about how the virus works and we are able to recognize the virus more quickly," Wood said, explaining that there have been no new outbreaks since the one last spring.
He's also optimistic about his staff's knowledge of infection control and their ability to keep themselves and residents safe.
Still, the pandemic is anything but over.  Less than 2 percent of the state's population has received both doses of either vaccine.
Meanwhile, the NCDHHS is reporting a new outbreak at the Marshville Autumn Care in Union County. The Jan. 29 NCDHHS congregate living report shows 73 cases among residents and 25 among staff. Four residents have died in this current outbreak.
"It's almost like it's a new norm, with the end in sight not being until the end of this year," Wood said.
Every day is a new challenge, he said, expressing appreciation for the residents he serves.
"All these people were as young and vibrant as you and me and had careers and families and hobbies, and so one of the more humbling and rewarding parts of the job is getting to meet people and help them," Wood said.