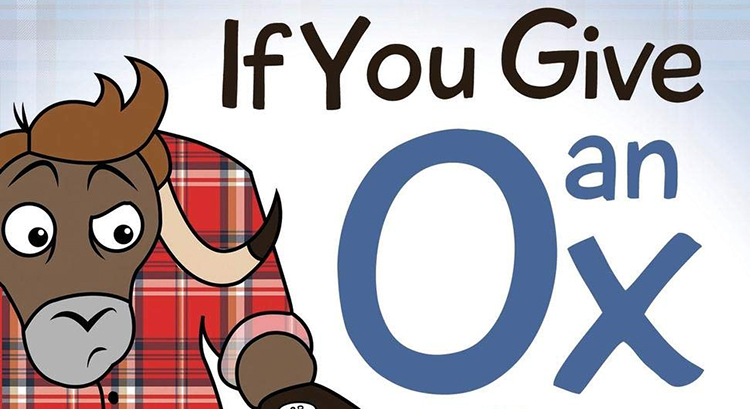 By Debbie Griffin. Years of motherhood and work on the front lines of the pharmaceutical industry inspired Cornelius resident Laura Happe to write her book, "If You Give an Ox an Oxy."
She can celebrate turning that inspiration into publication now that the book is on presale through all major outlets. Aug. 6 marks the release date for the e-version of "Ox," and Nov. 19 is the book's launch date.
Happe said she's bought all kinds of books to help her kids understand complicated issues such as changing bodies, dangers on the Internet, societal pressures and pornography to name a few, but opiate addiction is not something she's seen addressed for young people. Her research showed that a dismal 14% of parents talk to their kids about prescription drug addiction.
"That's the gap this is filling," she said about the book.
She envisions "Ox" not as the kind of story adolescents will check out on their own but rather one parents and guardians can share in the traditionally safe and comfortable mode of reading a book together.
Happe's book uses fun puns and chuckles to tell the story of Ox's innocent start with an opioid prescription for pain, followed by his progression through the stages of addiction including misuse, treatment and relapse.
Other valuable lessons learned from the Ox chapters include these:
• Don't take opioids in any other way than as prescribed.
•  Don't take anyone else's medication.
•   Avoid street drugs.
•   Properly dispose of old or unneeded prescriptions at a drug-takeback event or various community locations such as the police station.
A broader societal issue
"If You Give an Ox an Oxy" serves to raise awareness, especially among young people, about opioids and the dangers of abusing them. It isn't hard to find horror stories highlighting an opioid "crisis" or "epidemic," and part of Happe's motivation for writing the book stems from her work experience.
She was the chief pharmacy officer for a major healthcare company and led an addiction task force that used a five-part strategy to achieve a 20% reduction in the use of opioids. Happe teaches public health at Wingate University in Charlotte, is a pharmacy professor at the University of Florida and edits the peer-reviewed "Journal of Managed Care and Specialty Pharmacy."
Prescription painkillers serve a purpose and were the go-to treatment for many years. After OxyContin's introduction in 1996, it didn't take long for the drug to become wildly popular.
As addictions have grown and overdose deaths have increased, so has pressure on doctors to be extraordinarily judicious when prescribing opioid painkillers. Oxy and its derivatives became hard to get, and those addicted to the drug increasingly turned to heroin, an opiate-based, illegal street drug.
Heroin is even more dangerous because its origins are uncertain and its strength and purity vary. Those variances and inconsistencies cause many accidental overdoses. The "Ox" journey raises awareness about what an addict's loved ones can do when they're worried about a relapse or overdose.
The BlueStone Harbor resident said, "I'm a big advocate of naloxone," which is commonly known as Narcan.
Narcan use has grown along with the opiate epidemic. The Sandyedge Drive resident said most states have an overriding prescription on file so that anyone can get naloxone, whereas it used to be only for medical personnel and emergency responders. The drug saves lives by immediately reversing the effect opioids and opiates have on the brain.
Path to publication
Sitting on an airplane, the thought hit Happe of how the whimsical details of the book "If You Give a Mouse a Cookie" parallel the process of addiction. She connected with the "Mouse" series' author and pitched a collaborative partnership, figuring she'd scrap the idea if the answer was no.
Out for a run one day, Happe was listening to the affirming book "Girl, Stop Apologizing," when she saw the author's email pop in with a "no thanks" on the potential partnership. Happe said maybe the messages of her audio book influenced her, but right then she decided to proceed in trying for publication.
She conducted research and reviewed book indexes, finding few for teens about opioid or prescription drug addiction. Happe next pitched her idea to nine publishers, receiving in response three rejections and two letters of interest. She decided to go with Morgan James, a New York-based publishing house focusing on non-fiction, fiction and faith.
Happe has been networking and trying to market "Ox" to educators, such as through a teachers federation, but she anticipates it will take time and perseverance to demonstrate Ox's value to the learning industry. She received good news after the July 4 holiday: Makers of Narcan notified Happe she's been awarded a grant that will buy 350 copies of her $13 book for distribution in West Virginia at Camp Appalachia, which helps kids at risk of substance abuse.
The new author said her grandfather was active in AA for as long as she knew him, which was another inspiration. Her education influenced the book, since it revealed a lot about addiction and how far back it goes, from the morphine used during the Civil War to the opiates used in multiple common products before 1920 when heroin and poppy-plant derivatives were outlawed.
"It's important to treat it like a disease," Happe said about addiction.
She wants one of the book's takeaways for teens to be that they advocate for themselves and ask their doctors not to prescribe an opioid-based medication.