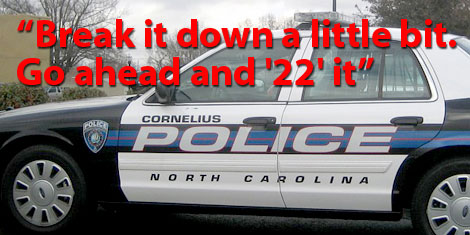 Aug. 6. Cornelius Police had given up a chase involving two young men in a 2013 Infiniti that crashed and burned on Jetton at 1:30 am Sunday.
Unedited audio from Sunday's chase:
Initial 911 call from Sunday:
Police estimate the car was traveling 90 mph when the driver lost control and the $27,000 auto skid 461 feet before hitting a tree on the side of the road just east of Meta Road. The driver and the passenger, both 24, were killed.
CPD recorded communications indicate that an officer was attempting to stop a speeding Infiniti near Bethel Church and West Catawba; soon there is a pursuit that lasts about 42 seconds. The Infiniti was estimated to be traveling 80-90 mph down Jetton Road while the officer was traveling 65 mph. A dispatcher says "Break it down a little bit. Go ahead and '22' it," calling off the chase. After about 20 seconds he sees a "huge fire" and calls for the Fire Department.
The driver was identified as Andrew Mark Krolikowski, of Huntersville. The passenger was identified as Jason Ray Monroe, of Charlotte.
The force of the crash was powerful enough to knock down a tree. Jetton Road was fully reopened about 10 hours after the incident occurred.