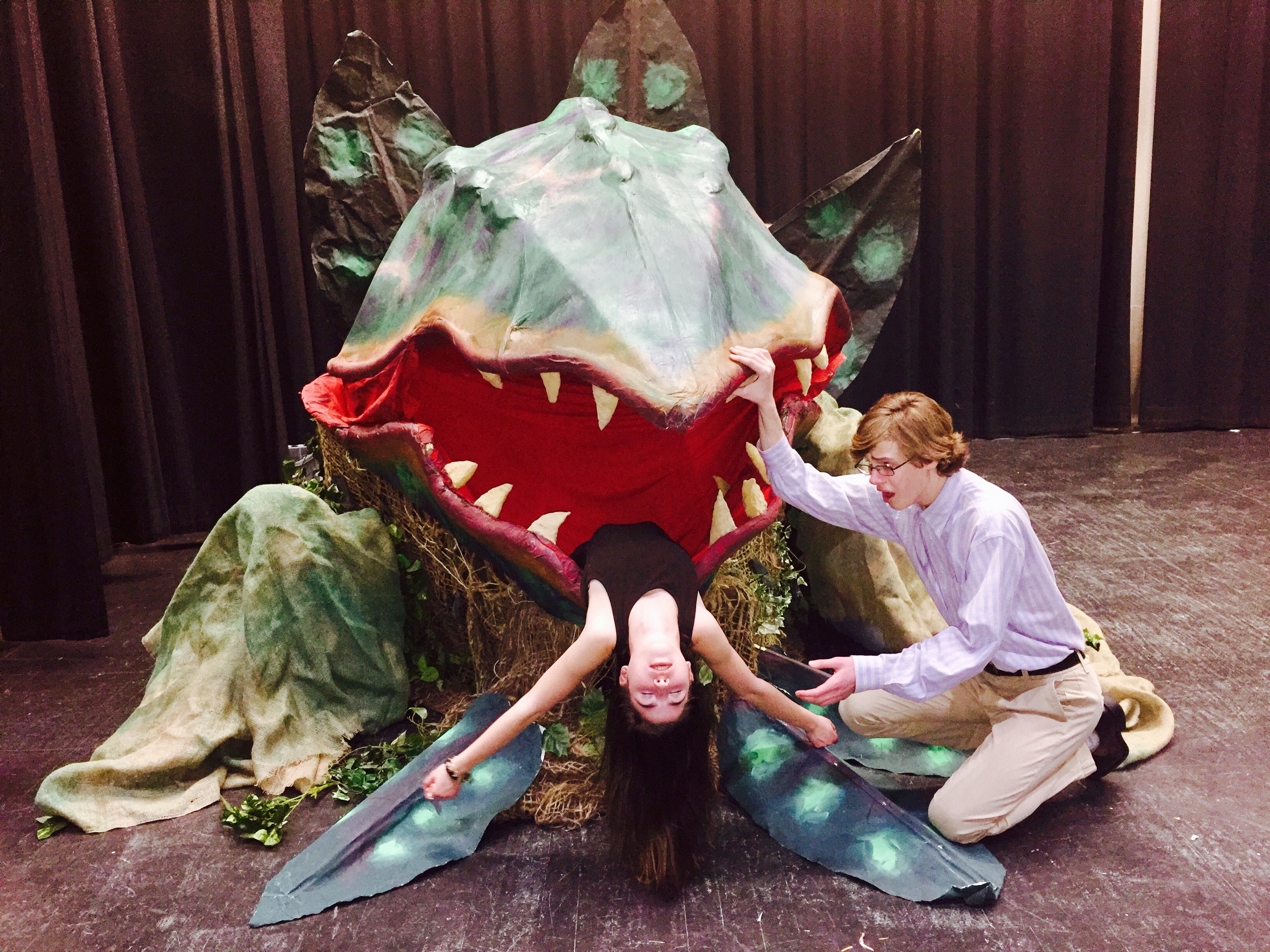 March 6. There's a large cast of enthusiastic and talented students in Hough High's new production of "Little Shop of Horrors," the darkly hilarious parody of detective and low-grade horror films.
Counting cast and crew and orchestra, there are more than 75 students.
Four performances will be held in Hough's Auditorium: 7 pm Thursday, March 16; 7 pm Friday, March 17; and at 2 pm and 7 pm Saturday, March 18.
"Little Shop of Horrors" tells the story of a down-and-out floral assistant who becomes an overnight sensation when he discovers an exotic plant with good taste in people.
The musical is based on a low-budget 1960 movie with a young Jack Nicholson in the cast.
Tickets are on sale online at www.houghtheatre.org, $10 general admission, or reserved seating for $15. Tickets at the door are $12.
CAST
Seymour—Cley Butler
Audrey—Audrey Gibbs
Dentist (Orin)—Mack Hamm
Mushnik—Drew Colven
Audrey 2—John-Blake MacManamy
Pupeteers—Sarah Edwards, Eric Fronzaglia, Hunter Jones
Ronettes—Sophia Leeman, Almaze Menguste, Ivy Montague, Annamarie Rios, Jordan Taylor, Jameka Wilson
Mrs. Luce—Shae Palmer
Bernstein—Michael Dorgan
Snip—Sam McLane
Policeman—Wilson Rouse
Customers—Isabella Arias, Olivia Joyner, Annie Weber
Chinese Man—Ben Anderson
ENSEMBLE
Jack Bruce
Jordan Brunelle
Christina D'Ovidio
Martina D'Ovidio
Ella Griffin
Katerina Guerra
Emma Landau
Julia Leeman
Camden Mancuso
Hannah Martin
Jamie McGoff
David Price
Chase Stern
TECHNICAL CREW
Stage Managers—Jordan Runnion, Haley Sanders, Ana Wilson
Crew Chief—Jake Bell
Crew—Keenan Hero, Lauren Rowe, Austin Schwinn
Lighting—Anna Wiles
Sound—Marvin Fokken, Stephanie Kapit
Set Decorating and Follow Spots—Brendan Carnahan, Jordyn Pressley
Prop Master—Kaitlyn Dornauer
Costumes—Marie Gioulis, Emma Mitchell
DIRECTORS
Director—Sylvia Schnople
Music Director—Heidi Hickox
Dance Advisor—Becky Bowman
Choreographers—Hannah Martin, Almaze Menguste
Pit Orchestra Conductor—Rob Carrington
Production Manager—Catherine McDougall
PIT ORCHESTRA
Violin—Janita Lynch, Olivia Lindquist
Flute—Rebecca Hobart, Morgan Hoehaver, George Hinkson
Oboe—Amber Liachoff
Clarinet—Parker Brown, John Danstrom, Emily Modrow
Bass Clarinet—Kadin Greenwalt
Alto Saxophone—Kasey Boyd, Emily Parker, Molly Reid
Tenor Saxophone—Dyonna Wilkerson
Baritone Saxophone—Tiara Ogaldez
Trumpet—Eliza Lagua, Austin Laminack, Nia Leader, Nathan McDonald, Melinda Paul
Bass—Emma Beard
Guitar—Ryan Davis
Percussion—Drew Elliott, Veronka Hartong, Evie Rossell
Piano—Anne Alexander, Jackson Harsch
Drum Set—Simon Goldstein