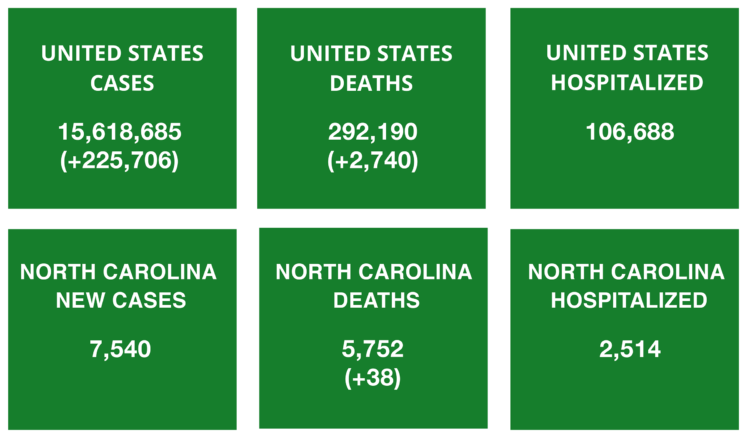 Dec. 11. The day after Dr. Mandy Cohen, secretary of the NC Dept. of Health and Human Services said new COVID-19 hospitalizations are a "lagging indicator" of the spread of the coronavirus, the volume of new cases set a record that was well ahead of the previous record set only two days before.
Meanwhile, Atrium doctors said in a teleconference they were "very disappointed" in some of the messaging come from some elected officials. "Health-care officials are the best source of information," said Dr. Katie Passaretti, medical director of infection prevention at Atrium.
—There were 7,540 new cases of COVID-19 statewide, 16 percent higher than Wednesday's record high of 6,495 new cases.
—In Mecklenburg County, there were 721 new cases of the coronavirus in today's NCDHHS report, a record.
—The NCDHHS also reported 33 new cases today in Cornelius, a record, as well as14 new cases in Davidson and 55 new cases in Huntersville, both record increases.
—The state reported a record 2,514 hospitalizations Friday.
'Dangerous' direction
Cohen and Gov. Roy Cooper said North Carolina is heading in a "dangerous" direction. A modified "stay at home" order goes in effect at 5 pm, a statewide curfew begins at 10 tonight.
"With this additional action beginning Friday, we hope to get these numbers down," Cooper said.
Testing
Yesterday's statewide positive test rate slipped to 10.4 percent, the same as Mecklenburg County.
Deaths
There were 38 new deaths in today's NCDHHS coronavirus report, including one in Davidson. County-wide, there were two new deaths related to COVID-19. The statewide total since March is 5,752.
Total cases
Statewide, the cumulative total of COVID-19 cases now stands at 423,623.
North Mecklenburg
Cornelius: 33 new cases, 1,168 cumulative; 17 deaths total.
Davidson: 15 new cases, 649 cumulative; 8 deaths total.
Huntersville: 55 new cases, 2,235 cumulative; 19 deaths total.