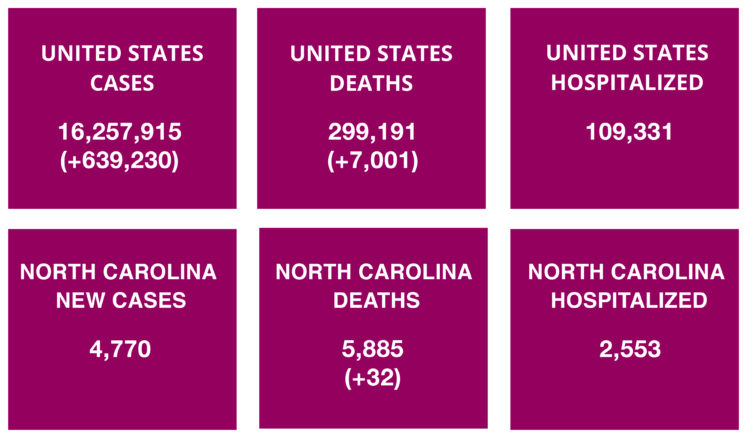 Dec. 14. The same day that the coronavirus vaccine begins distribution in the United States—and coronavirus deaths likely break through the 300,000 threshold–the NC Dept. of Health & Human Services reported 4,770 new cases statewide and 32 new deaths.
The volume of new cases is below Friday's record 7,540 new cases. NCDHHS Secretary Dr. Mandy Cohen said the predicted surge of post-Thanksgiving COVID-19 cases has arrived. Johns Hopkins University this morning reported 1,615,052 deaths worldwide, 299,246 deaths in the United States.
A modified "stay at home" order and curfew went into effect on Friday.
According to the Centers for Disease control, North Carolina ranks 35th nationwide in average daily cases per 100,000 over the last seven days. Worse-ranked Rhode Island has 117.3 cases; North Carolina has 56.7.
Hospitalizations
NCDHHS reported 2,553 hospitalizations today, down from a record 2,577 on Friday.
Deaths
North Carolina has had a total of 5,855 deaths due to the coronavirus.
In Mecklenburg County, there have been 485 deaths due to the coronavirus, up one from yesterday.
Testing
Yesterday's statewide positive test rate was 11.6 percent. The Mecklenburg County positivity rate was 10.9 percent, according to NCDHHS.
Total cases
Statewide, the cumulative total of COVID-19 cases now stands at 441,365.
Mecklenburg
The county-wide total is now 51,896, up 606 from yesterday. NCDHHS is reporting 47 new cases in Huntersville.
North Mecklenburg
Cornelius: 22 new cases, 1,228 cumulative; 17 deaths total.
Davidson: 6 new cases, 666 cumulative; 8 deaths total.
Huntersville: 47 new cases, 2,383 cumulative; 19 deaths total.