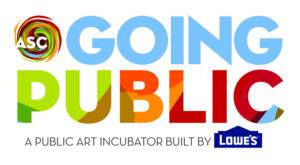 May 9. The Arts & Science Council and Lowe's are engaged in a  new partnership to support professional artists by equipping them with the skills necessary to become competitive candidates for regional public art projects managed by ASC.
Going Public: A Public Art Incubator aims to help build a skilled public artist pipeline and develop business acumen for selected participants who are foundational elements of this new cohort program.
"'Going Public' is a perfect extension of ASC's work to help local creatives develop sustainable creative practices here in the Charlotte region," said ASC President Krista Terrell. "ASC is grateful for the support of Lowe's to help equip local, professional artists with the skills necessary to become competitive candidates for regional and national public art projects."
Public art is an incredible source of revenue and professional development for artists working across concepts, media, and scales.
Making the transition from a studio or gallery-based visual arts practice to the competitive field of public art can be challenging.
This series of workshops will help artists better understand the process behind public art from applying to commissions, working with stakeholders and communities, and making their vision a reality. ASC's goal is to better equip artists for opportunities and challenges they may face while working in public space.
"Lowe's supports the communities it serves to make homes and hometowns better for all," said Randy Alexander, Lowe's community relations director. "This extends throughout our hometown of Charlotte, including support of local artists who make neighborhoods and communities vibrant places to live and work."
Lowe's Companies has its headquarters in Mooresville.
To celebrate the new partnership, Lowe's will host a special launch event to unveil "Double Take," a new sculpture by local artist Hillary Siber Edwards that adorns the exterior of the new Lowe's Tech Hub in South End.
"Double Take" celebrates Lowe's use of innovative materials and contemporary design by alluding to the intersection of technology, materials and home. Gökotta and ArtPop Street Gallery were hired by Lowe's to select a local artist to curate this large-scale public art installation.
It is this type of collaboration that inspired Lowe's to connect with the Arts & Science Council to create the "Going Public" Incubator Program. ASC and Lowe's envision local creatives working with both public and private partners to build beautiful works of art that everyone can enjoy, all while earning a living wage.