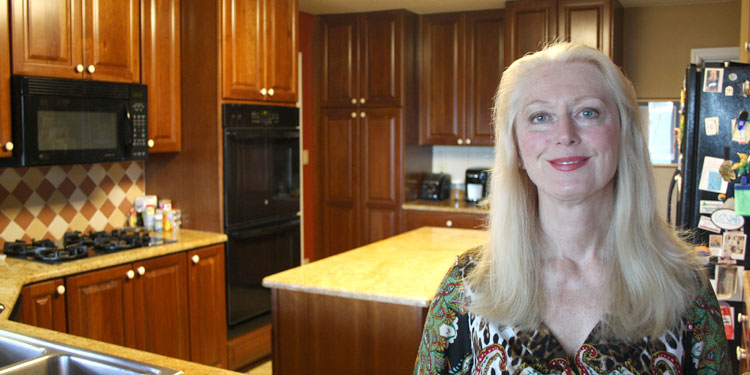 Ann Miltich is the new Mrs. Commish in town. The wife of newly elected Town Commissioner Dr. Mike Miltich, she is an on-call nurse anesthetist who until last year also schooled their two boys at the family home on Nantz Road. They teach the First Aid Merit Badge course at Boy Scout Troop 72 Bethel Presbyterian Church.
The Miltichs have a contemporary blended family, three girls from his first marriage, and the two boys together. The couple, who married in 1995, are focusing more of their attentions on the community, as they look ahead to becoming empty-nesters next year.
"I did 10 years of home-schooling," Ann says.  "I loved it and miss it every day."
She grew up in Charlotte, the daughter of a nurse at Presbyterian in Charlotte and an insurance adjuster. Ann's parents raised two other children; Ann got an award from the 4H Club in at Myers Park High School for an Almond Flavored Pound Cake.
It's the recipe she's sharing with Cornelius Today this month.
Ann's first job was as a technician in the emergency room at Presbyterian. It was tough training. of course. "It was eye opening…you can't be paralyzed by what you see, you have to help fix the situation and the person involved," Ann says. "I personally wish every teenager could go through this."
Her grandmother was a nurse during World War II, so Ann also comes by it naturally. She got a Bachelor's of Science in nursing from UNC-Charlotte in 1981.
Ann's mom had her hands full as a full-time nurse, so baking together on weekends was something they enjoyed. "That was our activity together. Dad would cook everything else. She was very busy, went to work early and got home at 6. But on weekends we liked to bake sweets and we liked to eat them!"
Holidays are special, with a large blended family, including Dr. Miltich's 100-year-old father, who is also a physician. During the summer, the couple enjoys entertaining out on the dock at sunset.
---
Almond Pound Cake
Ingredients:
1 c Crisco
1/2 c vegetable oil
3 cups sugar
3 cups flour
6 eggs (one at at time)
1/2 tsp salt
1/2 tsp baking soda
1 c canned milk
1 1/2 tsp almond flavoring
1 1/2 tsp vanilla flavoring
Preparation:
Pre-heat oven to 325 F. Cream Crisco, salad oil and sugar. Add eggs one at a time, beating mixture well after each egg. Add dry ingredients, alternating with dry ingredients, milk and flavoring..Grease and flour a tube pan. Pour batter into the pan and bake approx. 75 min or until a cake tester indicates done.