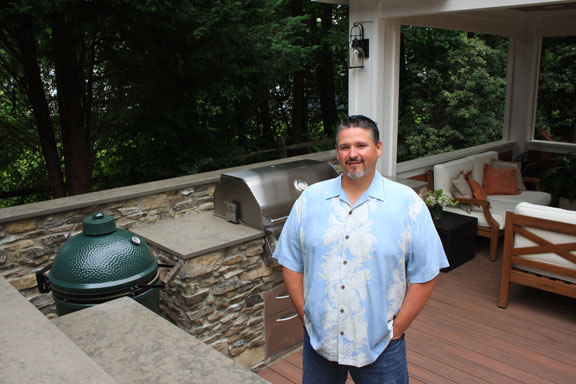 When it comes to ribs, Alton Updike knows his stuff. The owner of Alton's Kitchen & Cocktails is known for making tasty, fall-off-the-bone ribs. We're fortunate to get Al to share his recipe with Cornelius Today readers.
"People always ask me about my ribs, so this is the closest you can get to replicating them," he says. He and wife Heather barbecue out at home a few times a week, and if friends are coming over, we only cook outside."
The couple moved to Cornelius in 2004 and opened the restaurant in 2010. Alton has a long career in the restaurant business.
He started as a busboy at 15, and went on to the University of Florida where he shucked oysters at a well-known dive bar. Hooked on the business, he cooked and waited tables at a chain restaurant, then went into management with the Houston's restaurant chain, later Hillstone Restaurant Group.
He opened and ran 131 Main as kitchen manager and general manager for its first five years. When he found a turn-key opportunity at the entrance to The Peninsula—the old Mia Famiglia space and before that Charleston Chops—he jumped at the chance to own his own business.
Business is good. A patio renovation is almost done, with large cedar planters and café lights. "We will be looking to do live acoustic music, and still keep it pet friendly," he says. There are plans, too, for bicycle racks due to the increase of neighborhood riders dining at the restaurant.
Inside, look for new booths and matching dining room chairs. New bar tables and bar chairs are coming later this year.
"I'd like to think that our longevity in this location is from hard work and support of family and friends. But the real reason is because the good people of Lake Norman and Exit 28 that have always rallied around us as their neighborhood bar and grill. I hear it daily from folks about how happy they are that we survived the recession, construction and widening of roads. We are a destination location that is difficult to find, so I would like to say thanks to our supporters for helping us build a great family restaurant in Cornelius," Alton said.
---
Alton's Baby Back Ribs
Ingredients:
6 racks ribs
1 qt white sugar
1 cup granulated garlic
1/4  cup black pepper
1 tsp cayenne pepper
1 tbsp kosher salt
1/2 cup liquid smoke
2 cups water
Preparation:
Mix spices together and generously apply to the ribs
Place liquid in a roasting pan,( the same one you roast your turkey in at thanksgiving.) Position the ribs in the pan on their side, (use a rib rack, or wad up foil into so there is space between the ribs.) Top the pan with plastic, then with foil, the goal is to not let out any steam or moisture. cook for 4-5 hours at 250 degrees, you are looking for fall off of the bone tenderness. from the oven take them to the grill and baste with your favorite BBQ sauce, I recommend mine or KC Masterpiece.