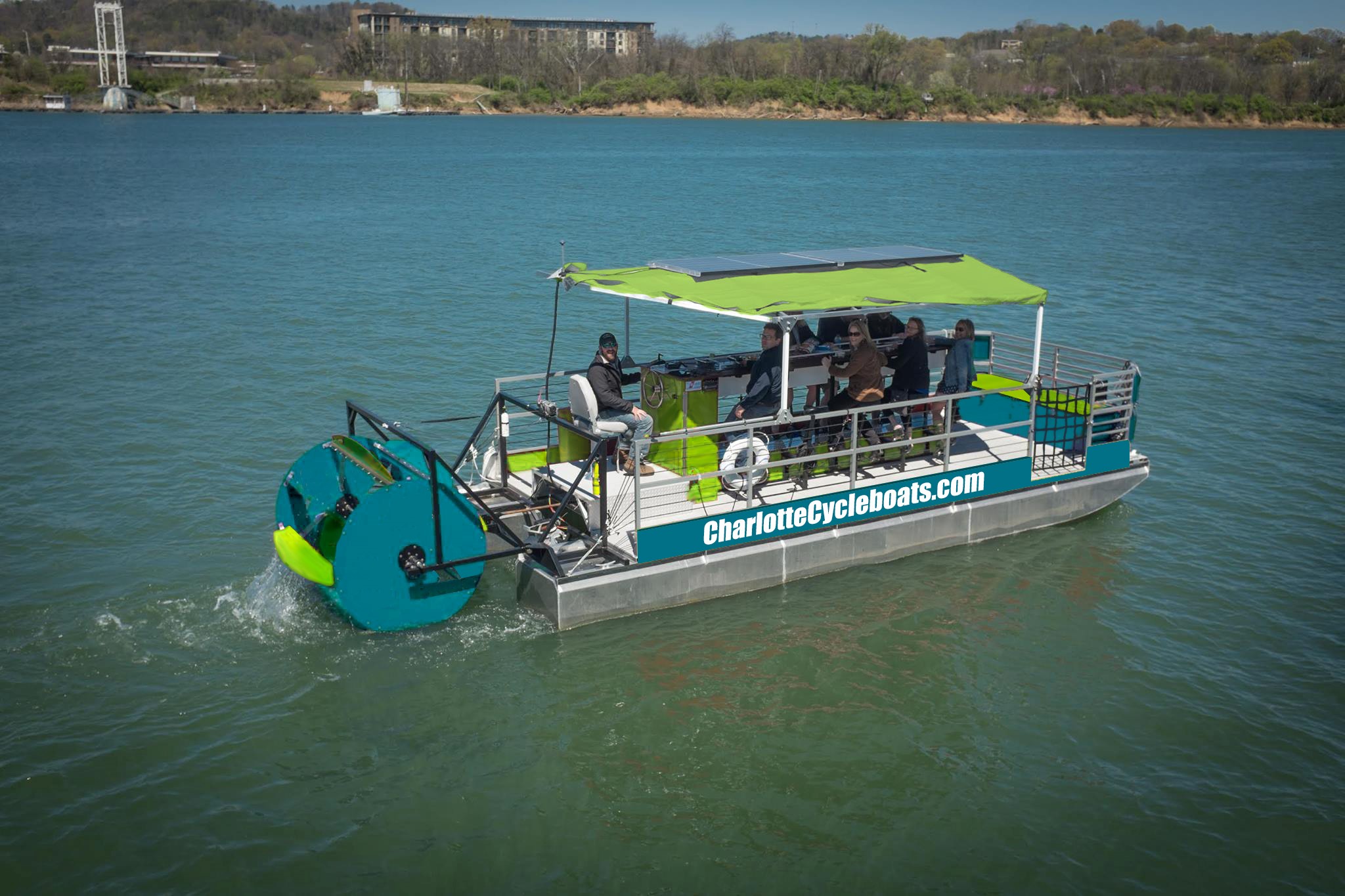 June 13. Paddleboard entrepreneur Rob Bennett has a new business that will enable more people to get out on Lake Norman for fun, with or without a beer in their hand. Bennett, the owner of My Aloha Paddle and Surf, is the member/organizer of Charlotte Cycleboats, a water-based spinoff of land-based pedaling party pubs. "Cycleboats provide a fun, new eco-friendly way to enjoy the water safely," he said.
Charlotte Cycleboats operate as commercial tour boats on lakes and rivers and are certified by the US Coast Guard. As riders pedal on individual cycle stations, they propel a large paddle wheel in the back of the boat. The boats come with an "experienced and fun captain" at the helm who steers and operate the electric motor when needed.
Charlotte Cycleboats gets its toes wet in July on Lake Norman, then Bennett will launch in Belmont and Lake Wylie. Weekdays, the entire boat rents out at $450; on weekends, it's $510. Single seats are available for less than $50.
Bennett knows how to get people on the water, even if they don't own a boat, live on the lake or want to go to the beach at Ramsey Creek. "I became more aware of the lack of fun activities on our beautiful lakes and rivers after growing Stand Up Paddleboarding," Bennett says. "Cycleboats are a perfect match to our current business and we are thrilled to be involved in another awesome experience."
The fun tours are suitable for friendly outings and parties, as well as team-building, fitness groups and, of course, spin and cycle groups.
The custom-built tour boats have high-top table lined by five pedal stations on each side to fit 10 people. Then there is a four-person bench seat without pedals are also on the boat. The boat is powered by pedaling making it eco-friendly, but there is an electric motor for backup and emergencies, with solar panels on the canopy roof for regeneration. Guests can bring their favorite beverage and snacks. Beer and wine are allowed, not liquor.
More info: www.CharlotteCycleboats.com