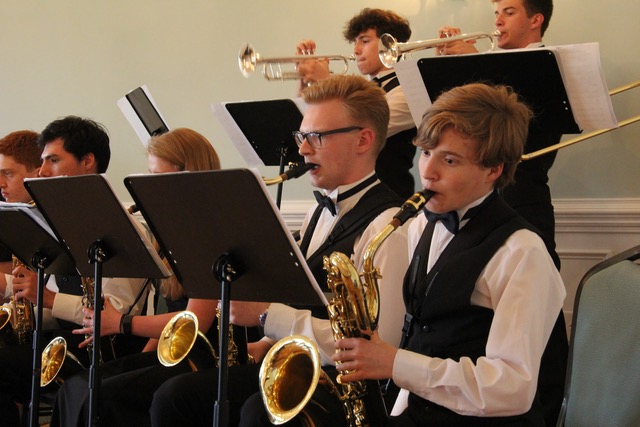 May 31. By Dee Eicher. The sounds of saxophones, trumpets, piano and drums filled the Bailey's Glen clubhouse during a concert featuring the Hough High School Jazz Band.
It's a cool example of the Bailey's Glen/Hough High School Partnership in action. Indeed, since 2013 has provided financial assistance to Hough students in need and supported teachers' efforts to improve the learning experiences in their classrooms through mini-grants.
Robert W. Carrington, creator and director of the band program at Hough since 2010, said that the yearly concert at Bailey's Glen is the highlight of the year.
"If I told the band members that we were not going to perform at Bailey's Glen, they would be very upset," he said.
The partnership has helped some students afford the costs associated with band.
In addition to providing monetary support, some residents have donated instruments or provided services such as driving to performances.
Carrington has 150 band students across multiple class offerings.
Currently there are two concert ensembles based on students' developmental levels. The Jazz program consists of a course during the school day and a smaller version held during Husky Time.
The marching band program happens in the fall. Students also have the opportunity to play their instrument during the spring musical or enroll in AP Music Theory along with a variety of other musical offerings.
"Any performance is educational," Carrington said. "However, performing for Bailey's Glen residents helps the students see that community members show enthusiastic appreciation as spectators as well as provide financial support. Both are so vital to our students' success," Carrington said.
—Dee Eicher is a member of the Bailey's Glen-Hough High School Partnership