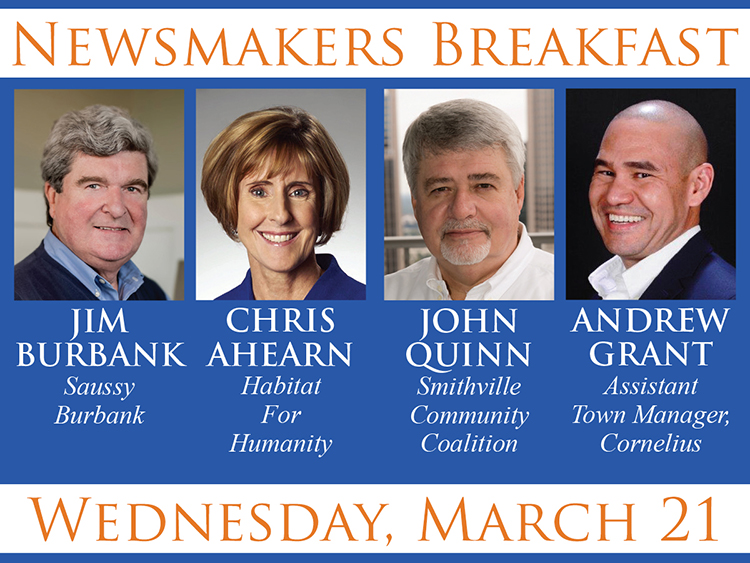 Affordable housing—better known as workforce housing in the world of economic development—will be the topic of the Business Today Newsmakers Breakfast March 21 at The Peninsula Club. Workforce housing is a term used by planners and economic developers to describe suitable living accommodations for people like first responders, single parents, teachers and service workers whose income is not high enough to secure quality housing ​near their jobs.
While soaring property values may seem to enhance all demographics at first glance, the high price of housing can increase burdens on roads and highways, contribute to urban sprawl and cause unforeseen societal challenges, like driving grandchildren from grandparents.
The speakers at the Newsmakers Breakfast are Chris Ahearn, executive director of Habitat for Humanity; Jim Burbank, founder of Saussy Burbank, a Charlotte-based homebuilder; John Quinn, a member of the Smithville Community Coalition and a community leader, and Andrew Grant, Assistant Town Manager for the Town of Cornelius.
Newsmakers Breakfasts are open-forum Q&As, driven by current issues and news around us. Anyone can ask a question.
Doors open at 7:15 a.m. for networking. The buffet-style breakfast gets under way at 7:30 a.m. The Q&A begins at 8 a.m. and concludes at 9 a.m. sharp.
The cost to attend, $12, includes a full country breakfast.
Reservations are required. RSVP at 704.895.1335 with Visa or MasterCard.
The Presenting Sponsor is Realtor Dixie Dean with Allen Tate. Breakfast Sponsors are Jack's Corner Tap and Premier Sotheby's International Realty. Coffee Sponsors are Davidson Wealth Management, Donna Moffett Accountants and Consultants and Master Title.