Feb. 11. The Hugh Torance House and Store will come alive with an inspirational and educational Valentine's celebration Saturday, Feb. 12, from 1 pm to 6 pm.
The event also features the launch of the HEARTS Park mission, which is to create ongoing place-based experiences to explore how nature, history, culture, and the built environment work together providing concrete context to better understand the deep history of this region and connections to broader themes.
HEARTS stands for History, Ecology, Arts, Reunion and Store.
Abigail Jennings, founder of HEARTS, said nature conservancy, historic preservation and development can all work together.
"Growth in our beautiful region is unavoidable. We can all do our part to protect our region's special places and we need to. These landmarks, fields, and forests are what give our scenic landscapes the authentic character everyone cherishes. Every place preserved is an opportunity for future generations to experience," said Jennings, co-owner of Cornelius-based Lake Norman Realty.
Event details
The festivities kick off at 1 with a limited-admission event at Cedar Grove sharing an overview of the HEARTS Park mission and the Torrance connection to the enslaved African American poet George Moses Horton.
This event will feature a reading of the Don Tate children's biography of Horton by award-winning actor, playwright, and director Michael D. Connor. Following the reading will be a facilitated poetry workshop where attendees create their own valentines in the acrostic style often used by Horton, utilizing historic and artisanal techniques and materials.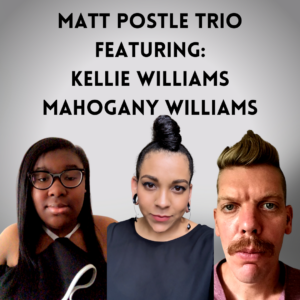 Admission is $25 for adults and $15 for children ages 4-12 (3 and under free), with all proceeds benefiting 501C3 non-profit Hugh Torrance House and Store's efforts to further historic preservation and ecological conservation in our region.
Tickets are available at www.hughtorancehouseandstore.org.
Cool music, perfect weather
From 4 pm to 6 pm is the free community portion of the event, sponsored by Lake Norman Realty.
Entitled "Cedar Groove," the event features the Matt Postle Trio with Kellie Williams and Mahogany Williams.
Postle currently teaches music courses at Central Piedmont Community College. The trio performs a mixture of jazz standards, originals, and pop covers. Both Kellie and Mahogany are music majors at Central Piedmont and are pursuing performance careers after graduating.
Poetry
In addition to the live music, poetry by George Moses Horton will be shared by Michael D. Connor.
The event hub is at the Hugh Torrance House and Store in Huntersville, the oldest standing store in North Carolina. Beer, wine, beverages, and food will be available for purchase from 4:00-6:00 at the store. The Hugh Torance House and Store is located at 8231 Gilead Road in Huntersville. Parking is available in the new greenway parking lot on Gilead Road at McDowell Creek.
For additional information, email info@hughtorancehouseandstore.org.