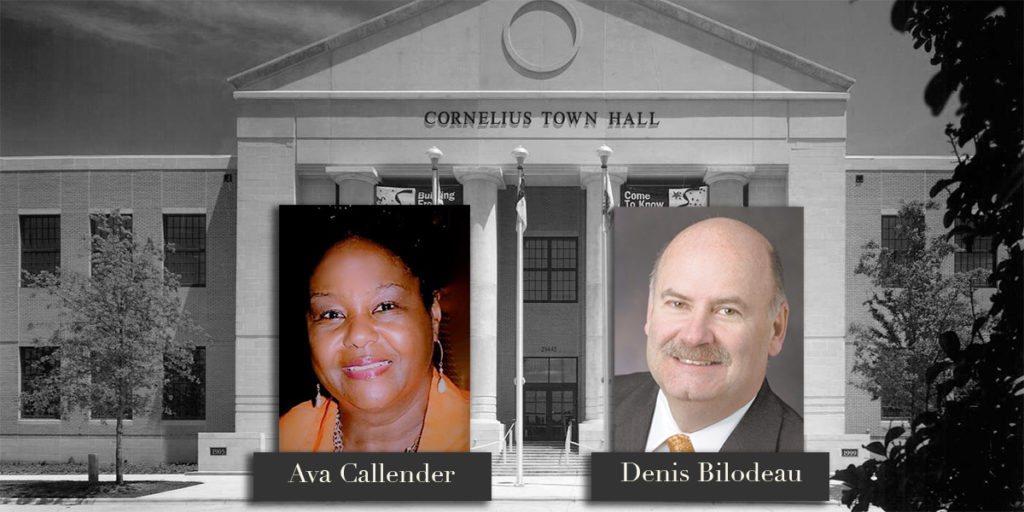 May 19. Saying that she will "meet the ​c​hallenge of ​balanced ​g​rowth, ​l​ow ​t​axes and ​c​reative ​s​olutions​, f​amily literacy advocate ­​and ​community volunteer​ Ava Callender has declared her candidacy for Cornelius Town ​Board.
​If elected, she would be the first woman on the town board since 2009 and 2011 when Lynette Rinker was elected. She would be the first female African-American since Nannie Potts who was elected to the town board in 1983. Both Potts and Rinker went on to become mayor.
The Cornelius Town Board is important. In addition to setting the tax rate and policy on everything from speed limits on local roads to how many boats you can store on your yard, the board has been a consistent stepping stone to higher office.
NC Rep. John Bradford, NC Sen. Jeff Tarte and US Sen. Thom Tillis all served on the five-member board.
​Callender said she wants to make sure that our quality of life keeps pace with growth.
"The Arts Center will soon be here; and many businesses are vying to locate in Cornelius. Cornelius is a diverse, growing and vibrant town. Both business and neighborhoods will thrive when we thoughtfully plan for these changes. Smart growth requires that we maintain high standards while securing the amenities that enhance living well," she said.
​Her intentions became clear when she attended, at her own expense, the ​town government's ​two​-​day ​"Budget Retreat​" at the magnificent Graylyn Estate ​in Winston Salem. ​No matter how luxurious the setting, the retreats are mostly about middle-aged white men discussing the cost of fire trucks, police cars, sidewalks and artificial turf.
Callender said she is ​"​confident that the property tax rate should remain low, with the possibility of returning to the even lower rate of 2016.​"​
​Specific ideas​
She has specific ideas, too, including advocat​ing "for a more robust use of Town Hall​."
Among her ideas are an annual ​job ​f​air, ​h​ealth ​f​air ​and informational seminars for small businesses and ​s​enior ​c​itizens. She​ said she​ will strengthen ties with small businesses by meeting with them regularly and including a business directory on the Town website.
​Her volunteer experience includes​ ​the Cornelius Affordable Housing Task Force, Arts & Science Council North Mecklenburg Advisory Board, Smithville Community Coalition Jobs Committee​ and honorary chair of the​ Pearls of Service Foundation​ ​Fundraiser​.
Now retired, the Lincoln University graduate's work experience include​s ​NC Workforce Housing ​s​pecialist, NC Real Estate Commission ​b​roker­​ ​in­​ ​charge designation, HUD certified broker, Mecklenburg County Title One tutor​ ​and Princeton Review SAT Teacher ​and​ site director.
Callender​, who has ​two adult children​, lives in ​the Twin Oaks ​neighborhood, just off North Main Street adjacent to Davidson.
An interesting contest come November
Right now there is one African-American on the Town Board: Veteran Commissioner Thurman Ross. All five town commission seats are up for grabs. Commissioner Woody Washam, who is also the mayor pro tem, has declared his intentions to run for mayor. Sitting Mayor Chuck Travis has not declared, but Washam is a well-regarded leader and top vote-getter.
Commissioners Jim Duke and Mike Miltich have formally announced their plans to file for re-election. Ross will soon make an official announcement that he will seek re-election. Commissioner Dave Gilroy told Cornelius Today this morning that he will seek another term; he has served since 2005.
Community leader and retired insurance executive Denis Bilodeau ​has announced his plans to run for town board. He currently serves as chairman of the influential Cornelius PARC (Park Arts & Recreational Culture) board—Bradford, Tarte and Tillis did so as well—and is president of the​ ​Cornelius Cultural Arts Group and a board member of the Cornelius Arts & Community Center.
Bilodeau was an early member of the anti-toll I77 Business Plan, and traveled to Raleigh to lobby against the toll plan. He is a former president of the Rotary Club of North Mecklenburg, as well as a long-time member of the Big Day at the Lake organizing committee.
There are a number of potential candidates waiting in the wing; the most prominent right now being Michelle Ferlauto, a leader in the anti-toll movement and a businesswoman.
Facebook: A likely place for politics
A Facebook page, "Elect Michelle Ferlauto," is​ ​"for​ exploratory purposes in hopes that Ms. Ferlauto will run for commissioner as a voice for the everyday people.​"​
​On Wednesday, Ferlauto said she has not made up her mind. As of Friday night, the page had 186 "likes,"​ some of them from politically prominent people, including Mecklenburg County School Board Member Rhonda Lennon, as well as Shea Bradford, the wife of Rep. John Bradford​, and former NC Rep. Charles Jeter of Huntersville.​
Of course, anyone can "like" a Facebook page. Whether that translates into votes is another thing. And whether anyone runs for office or not isn't a sure thing until they officially file to run.The official filing for the November elections opens July 7 at the Mecklenburg County Board of Elections and closes July 21.
Another possible candidate is Tricia Sisson, the owner of The Range at Lake Norman on Bailey Road. On Wednesday she also told Cornelius Today she has not made up her mind on whether she will run for Town Board.
Both Ferlauto and Sisson—as well as ​Callender and ​Rusty Knox, who has declared his candidacy for mayor of Davidson—attended the Greater Statesville​/​Lake Norman Academy of Political Leadership​. Presenters included the likes of Tillis and Andy Yates, a leading political consultant whose clients include successful candidates likes Washam and Duke locally as well as NC Sen. David Curtis in Lincoln County and NC Rep. Linda Johnson in Cabarrus.
Yates said, with an open seat on the board plus a number of hot issues, mostly surrounding transportation, he expects even more people to throw their hat in the ring.
"I've heard rumors of 10 or more candidates including the four incumbents who are seeking re-election," he said.
In a crowded race like this, one of the keys to winning is to stand out from the crowd in a positive way such as for past service, unique qualifications and perspective, endorsements, or your campaign platform.
"Certainly being one of only two or three female candidates in a crowded field could be an advantage and a way to stand out from the crowd," Yates said
​Balance of power​
The dynamics of local politics are changing, too. Where The Peninsula once reigned in terms of clout, a younger demographic is making itself known in Antiquity. There have been concerns expressed about an all-male town board.
"I ​think that little section is going to do good things for Cornelius and bring a blend and change the dynamics of the town​," said Stacy Phillips, who ​​created the Elect Michelle Ferlauto Facebook page.
Her father is influential Huntersville Commissioner Danny Phillips. Stacy has been a political consultant to ​Mecklenburg Commissioner Jim ​Puckett, Jeter​ and Huntersville Commissioner Mark Gibbons​.​
"The strength of having women on the ballot means that the community is being truly reflected and, if elected, the board would be so much more relatable to the average citizen," Phillips said.