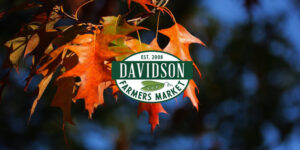 Nov. 8. The Davidson Farmers Market will be open for the next two Saturdays—Nov. 12 and 19—and then return for holiday markets Dec. 10 and 17.
The 2022 holiday markets will mark the first year some vendors will offer their handmade crafts, along with their regular market goods.
The market is closed Nov. 26, Thanksgiving weekend.
In 2023, Davidson Farmers Market will open Jan. 7and then every other Saturday through March 18.
April 1 will begin the start of the weekly markets.
Hours are 9 am to noon on all dates. No pets allowed.