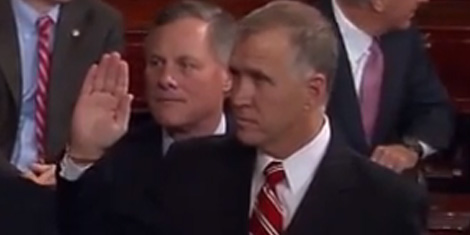 Jan. 6 Woody Washam and Melinda Bales, the mayors pro tem of Cornelius and Huntersville respectively, were among the local supporters who attended Sen. Thom Tillis' swearing-in ceremony in Washington, D.C.
The former IBM consultant and outgoing North Carolina House speaker was sworn in by Vice President Joe Biden. Tillis began his political career in Cornelius on the Town Board. He and his wife Susan Tillis now live in Huntersville. They are hunting for an apartment in Washington, D.C.
Tillis, who set his own term limit in the N.C. House when he was elected back in 2006, won't have to run again until 2020.
Tillis will serve on the Senate Armed Services and Veterans' Affairs committees, as well as agriculture and judiciary panels and a special