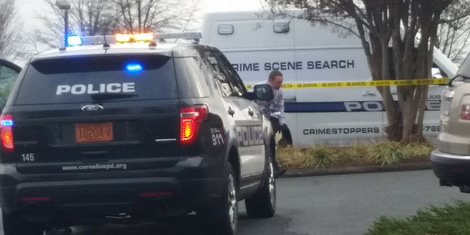 Jan. 6 It was all part of a plan. The Dec. 29 bomb scare at the YMCA and the armed robbery at the Carolinas Telco Federal Credit Union were related, according to Cornelius Police.
Police responded to a bomb threat at the YMCA on the east side of Town, while on the west side of I-77 the robbery was underway. Police suspected the bomb threat was a diversion to pull police officers away from the area of the robbery.
The suspect in the bank robbery wore a professional mask. They pointed a handgun at the teller, got cash and left on foot. Responding officers located a bicycle and some cash behind a shopping center nearby, and witnesses said a silver minivan had been parked in that area.
Police used video surveillance footage to locate a minivan in the area of the bomb threat matching the same description of the vehicle the witness described as seen parked behind the shopping center where the cash and bicycle were found.
This silver minivan was also found in the area of the bank at the time of the robbery. The license plate was captured through surveillance video and is registered in Delaware. With the assistance of the Maryland State Police and the FBI, the vehicle and a suspect was detained in Maryland.
This suspect, Milandra Constant, an accomplice in the robbery, is being charged with Robbery with a Dangerous Weapon and Making a False Bomb Report at the YMCA. Cornelius Police detectives were in Maryland and the investigation is continuing with more charges expected.