By Dave Vieser
With one year under his belt as mayor, Chuck Travis outlined the town board's accomplishments at the Cornelius Today and Business Today Newsmakers Breakfast Dec. 11.
"I've been your mayor for one year, so this is a great opportunity to reflect on the past year's highlights, while also looking ahead," Travis said, explaining that Cornelius is in the midst of retail growth. Davidson, meanwhile, has more growth connected to industry. Under Cornelius' form of government, the mayor does not vote, rather he or she helps set the direction around growth, infrastructure and policy.
"I'm thrilled to report that Gov. Pat McCrory and Cultural Resources Secretary Susan Kluttz will help christen the new Catawba Avenue Bridge when it is completed early next year," he said. "It's the inaugural effort of the state's 'Art That Moves You' program, a new state program designed to encourage more creativity and originality in areas such as bridge design," Travis said.
The ceremony will take place in late January or early February. "The program's goal is to urge citizens and officials not to do typical bridges and structures, and we're proud that Cornelius will be in the forefront of this statewide effort."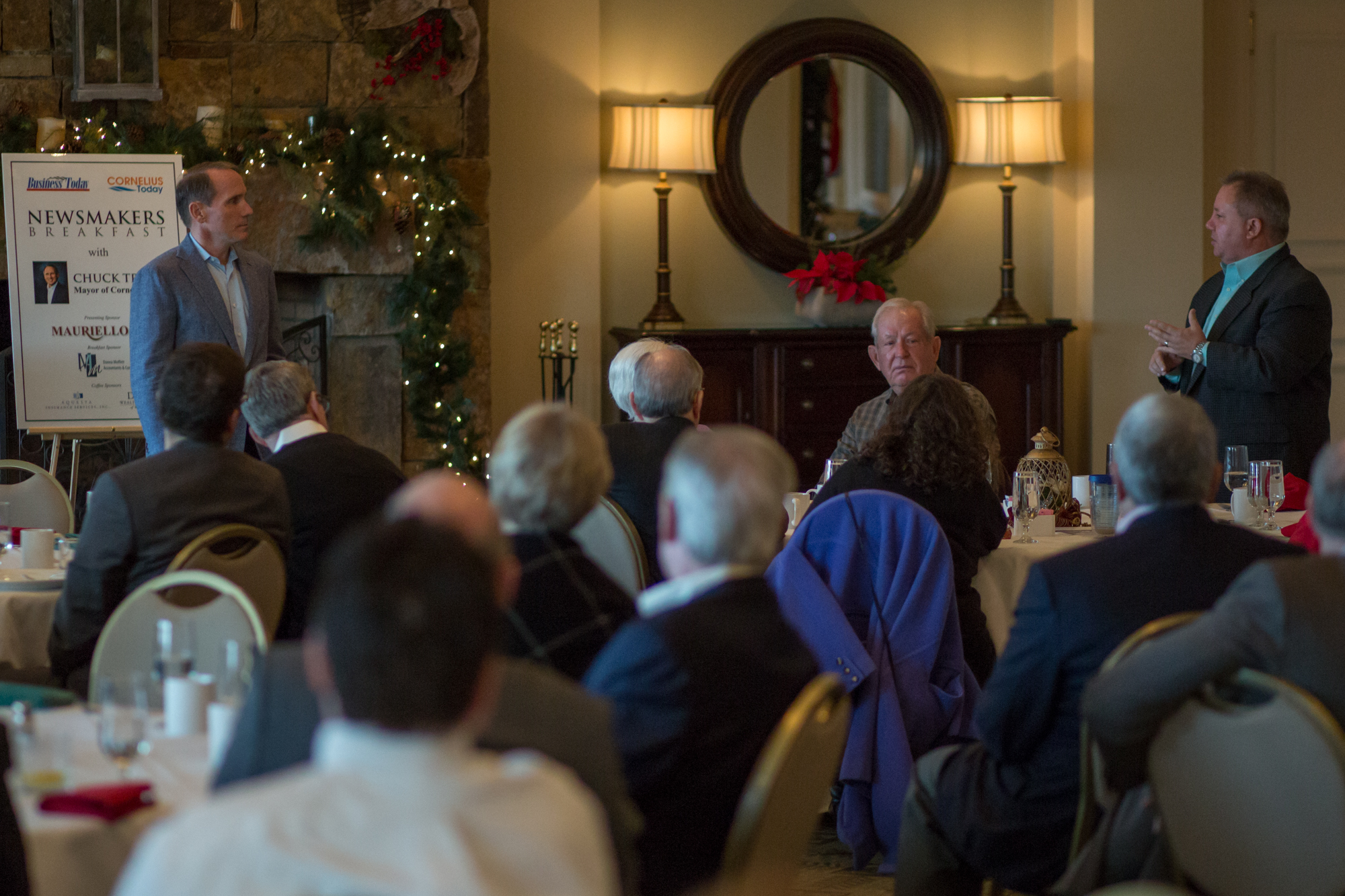 The $2 million "aesthetic makeover" of Exit 28—a sailboat like superstructure with cables and special lighting—will help brand Cornelius as the town by the lake. When completed, the new bridge will feature five-foot lanterns on the four corners, as well as trees and other plantings.
Travis said there is considerably more work to be done around lake access for everyone. "In a town which prides itself on the lake connection, we have only two lakeside restaurants. That needs to change," Travis said. He said the town's land use plan will help identify more lakefront properties suitable for development.
Travis announced that the town will conduct an interchange justification report for a future Exit 27 on I-77. "There are over 200 vacant acres in that area, which was once associated with the Augustalee project, still waiting to be developed," he said.
Travis also said that the town is about to issue $10 million in bonds for the first installment of the road and greenway bond package approved by voters in 2013. In addition he announced that:
The state will be resurfacing Jetton Road in the spring, after which the town will take over maintenance.
The Torrence Chapel Road widening and sidewalk addition is virtually complete.
Financial closing on the agreement between DOT and Cintra for the I-77 managed/toll lanes should occur within the next month.
The town board is keeping a close eye on the DOT's proposed plans for the Phase II widening of West Catawba Avenue.
Travis said the state's "superstreet" proposal, which would eliminate most left turn movements, was off-base. "That concept may be beneficial in moving people from Point A to Point B but I am not at all sure it's right for our town, especially our local businesses."
On the economic side, Travis noted that the Publix at Magnolia Plaza was nearing completion, and that retail development at Antiquity was well under way.
In the area of public safety, the mayor said the recent agreement whereby the town will become the primary 911 responder on the lake starting next summer was a huge accomplishment. "This came to a head last year when a call for help to CMP was delayed. We've actually been working on this problem for many years, since the days when Gary Knox was mayor. I appreciate the work done by County Manager Dena Diorio, who was instrumental in making this happen."
He also said the town will be purchasing a new aerial ladder truck for the fire department; creating speed zones at Bailey Middle and Hough High; and expanding the community camera program next year.
"Lots of work accomplished, but lots to still do," Travis said. "I appreciate the support of my fellow town board members in getting our goals achieved."
The Newsmakers Breakfast was sponsored by The Mauriello Law Firm, Donna Moffett Accountants & Consultants; Aquesta Insurance Services and Davidson Wealth Management.