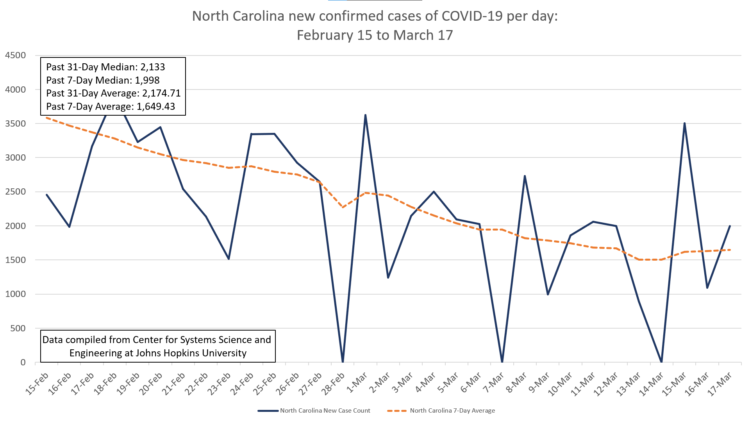 March 18. The median of new coronavirus cases over the past seven days (1,998) in North Carolina is running 6.3 percent below the median during the past 31 days (2,133), based on COVID-19 data supplied by Johns Hopkins University.
The NC Dept. of Health & Human Services today reported 2,004 new COVID-19 cases, about the same as yesterday (1,999).
There were 26 new COVID-19 related deaths statewide, down from 35 yesterday.
Hospitalizations were at 995 today, down from 1,892 one month ago.
"With more students in the classroom and millions of people receiving vaccines, there is hope on the horizon," Gov. Roy Cooper said during a press conference. "But with this virus and its variants continuing to spread, it is too early to let our guard down."
To date, the state has administered over 3.4 million doses, with 16.5 percent of those18 and up fully vaccinated.
Testing
The statewide positive test rate is at 3.9 percent; 4.4 percent in Mecklenburg. The target is 5 percent and below.
Deaths
There have been a total of 11,783 coronavirus deaths statewide according to today's NCDHHS report. In Mecklenburg County, there were no new deaths in today's report.
Mecklenburg
In Mecklenburg County, the NCDHHS reported 211 new cases, and no new deaths
North Mecklenburg
Cornelius: 9 new cases, 2,598 cumulative; 24 deaths total.
Davidson: 10 new cases, 1,481 cumulative; 15 deaths total.
Huntersville: 12 new cases, 5,304 cumulative; 47 deaths total.