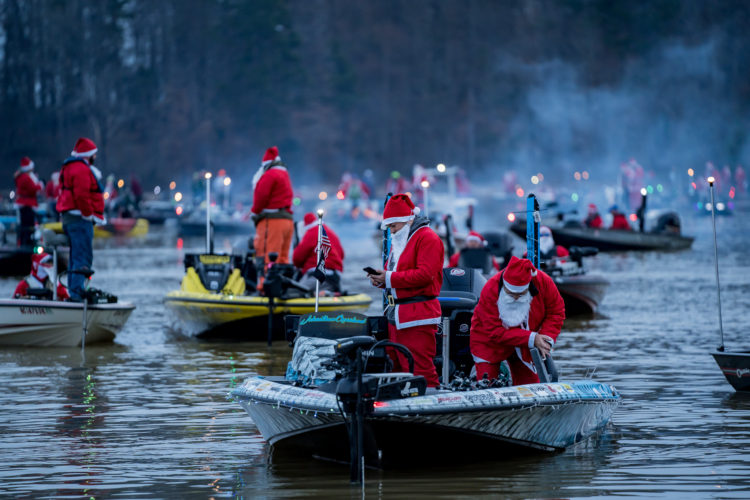 Dec. 13. If you had visions of Santas fishing on Lake Norman Saturday, you didn't have sugar plums messing with your head. Hundreds of Santas rode boats instead of sleds during the Ugly Stik "World's Largest Santa Claus Bass Tournament" Saturday at Queens Landing. Nearly 300 anglers competed in the one-day bass fishing tournament dressed as St. Nick.
Scott Hamrick, of Denver, and Roger Hoover, of Mooresville, brought a five-fish limit to the scales weighing 15.07 pounds for the big win.
The event was sponsored by fishing rod maker Ugly Stik and established a new world record for the largest fishing tournament with anglers dressed as Santa Claus. Participants donated roughly $15,000 worth of new toys to Toys for Tots to help make Christmas possible for area children.
Ugly Stik says more than 13 million Americans returned to fishing after a prolonged absence or tried the sport for the first time as people became reacquainted with how fishing fills a specific niche in modern life.
Fishing  lends itself to social distancing, plus it connects people with the outdoors, which has proven benefits for the mind and body.
The event, which was operated by Fishers of Men, had a guaranteed $5,000 first-place prize which Hamrick and Hoover took home. The pair boated 25-30 fish on the day, most of them coming on a crankbait in the lower portions of the lake.