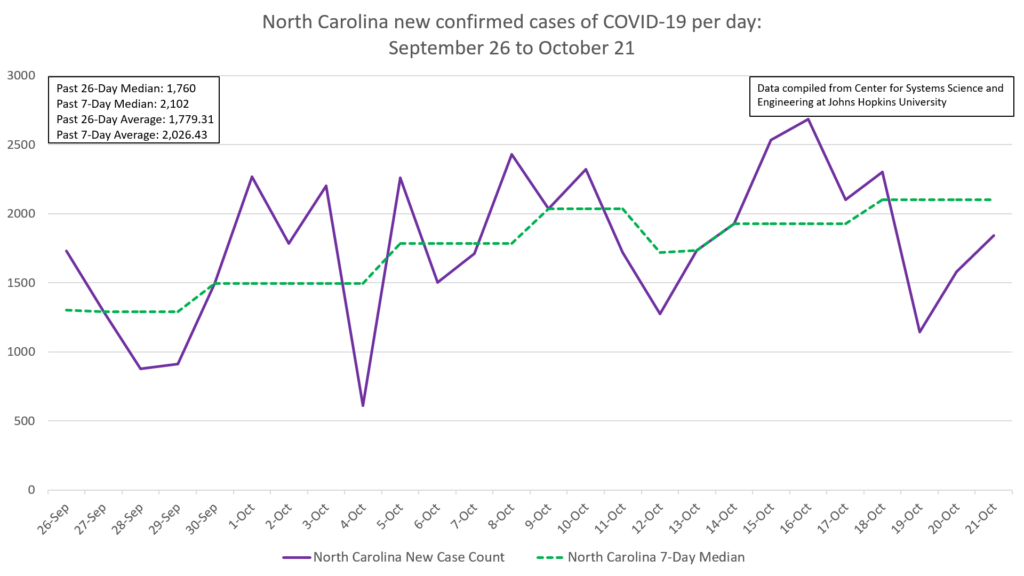 Oct. 22. By Dave Yochum. The median daily volume of new COVID-19 cases statewide over the past week is running 19.43 percent ahead of the past 26 days. The NC Dept. of Health and Human Services today reported 2,400 new cases, up from 1,842 new cases that were reported on Tuesday. New cases rose to more than 2,500 a day on both Thursday and Friday last week.
Today's increase of 2,400 new cases comes a day after Gov. Roy Cooper announced that North Carolina will remain in Phase 3 of reopening until at least Nov. 13. To view the Executive Order, click here.
The median number of new cases in the past week vs. the past 24 days is 2,101 compared to 1,760 over the past 26 days. (On Sept. 25, the NCDHHS changed its COVID-19 new case reporting methodology. Cornelius Today has opted to calculate the rate of change from Sept. 26 to now.)
Testing
Tests are coming back positive at the rate of 5.9 percent statewide. That's down from 7.4 percent on Tuesday and Wednesday. The goal is less than 5 percent.
Deaths
There were 50 new deaths statewide due to COVID-19. A total of 4,082 North Carolinians have died because of the COVID-19 pandemic.
Hospitalizations
Hospitalizations fell by 14 patients to 1,205 statewide, according to today's NCDHHS report.
Mecklenburg
Mecklenburg County's positive tests are coming back at the rate of 5.4 percent. The positivity rate was 4.6 percent one week ago.
There were 193 new cases reported in Mecklenburg, up from 126 new cases yesterday. On Thursday a week ago there were 256 new cases.
There was four new deaths in Mecklenburg in today's report, for a total of 380 county-wide.
North Mecklenburg
Cornelius: 2 new cases, 640 cumulative total; 16 deaths total.
Davidson: 1 new case, 338 cumulative cases total; 6 deaths total.
Huntersville: 6 new cases, 1,185 cumulative case total; 14 deaths total.